Horse Abandoned At Age 30 Was So Weak He Couldn't Stand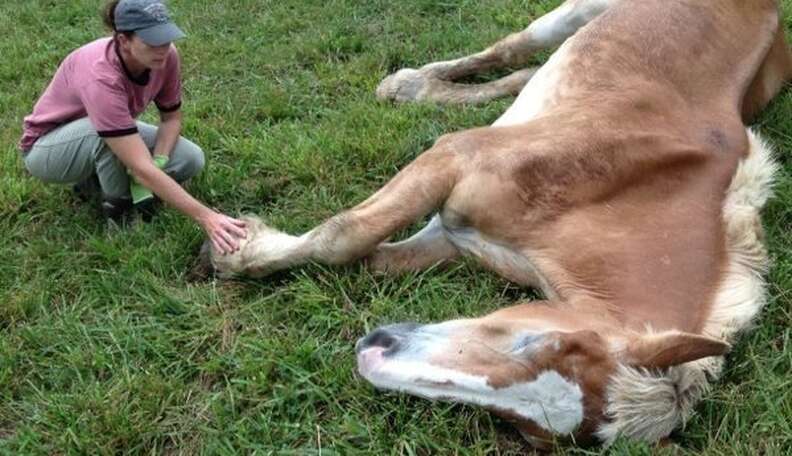 <p>Ferrell Hollow Farm Senior Horse Sanctuary<span></span></p>
For most of his life, Arthur knew nothing but hard labor. The Belgian draft was a work horse for a farming community in New England, but there was a limit to his usefulness. At the ripe age of 30, Arthur was suddenly no longer needed.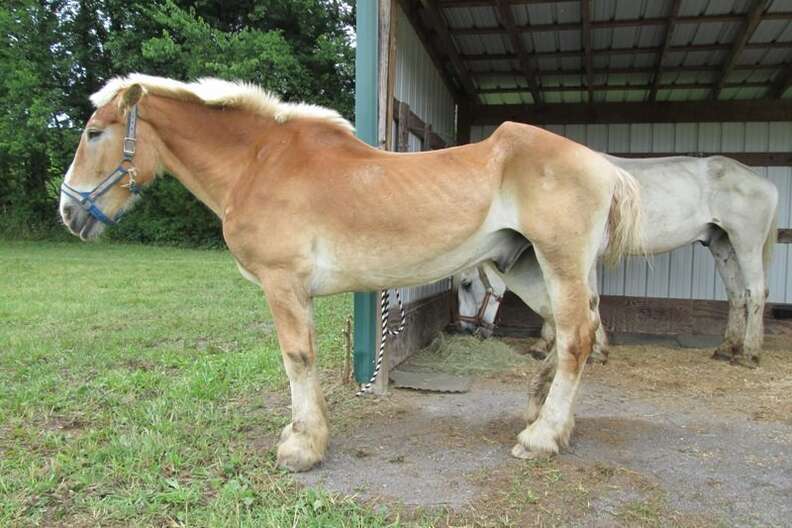 He went through a stressful period of life, bouncing from auction to auction and dealer to dealer. Along the way, Arthur found a companion in another horse named Max.
The final destination they reached together was, by far, the most terrifying.
"I pulled both Arthur and his buddy Max from dealers in Pennsylvania where they had been bounced around from auctions and were heading to New Holland, a high-kill auction, next," Cindy Daigre, founder of Ferrell Hollow Farm Senior Horse Sanctuary in Tennessee, told The Dodo.
Daigre happened to come across a website where she saw both horses being brokered out. In a photo, she saw how emaciated Arthur appeared and watched a video of Max that turned her stomach, sealing her determination to get both horses away from such upsetting conditions. In the video, a woman rode the horse, slapping him with his reins and kicking him hard. "It was clear he was not even broke to ride," Daigre said.
"I was told that [Arthur] was purposely starved while waiting to go to the next auction and the man that had him often sold thin old horses to the 'cat man' with exotic cats for meat," she said. "I was horrified." With the assistance of a network of draft horse resources, Daigre was able to hire a transporter to bring both horses safely to the sanctuary.
Arthur was so thin and weak when he first arrived that all he could do was lie down. He was exhausted, with no desire to eat or explore his new surroundings. After a few days, once Arthur began to realize that he was no longer in harm's way, he finally began to eat and recover.
For Max, this process would prove to be more difficult.
"Max has a back injury with neurological issues as well as feet issues," Daigre said, adding that he also has scars on his body from past abuse. "He was physically abused and was so full of fear upon arrival and had no use for people. He was actually dangerous to work with."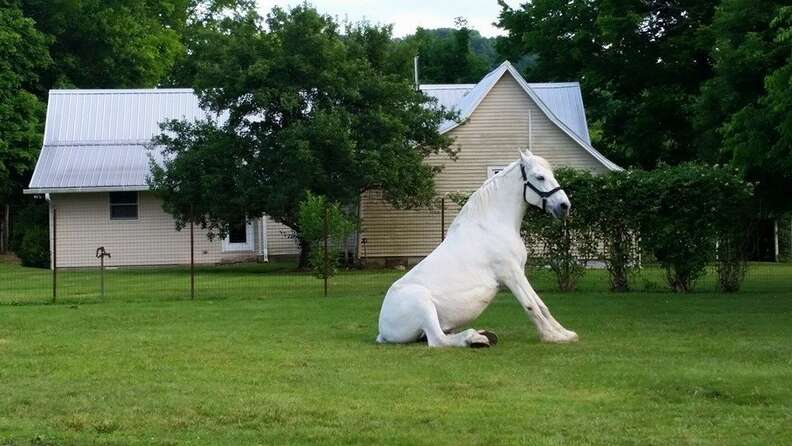 It took Daigre an entire year to see a breakthrough with Max. "He is a lovebug when it comes right down to it, but no doubt challenging," she said.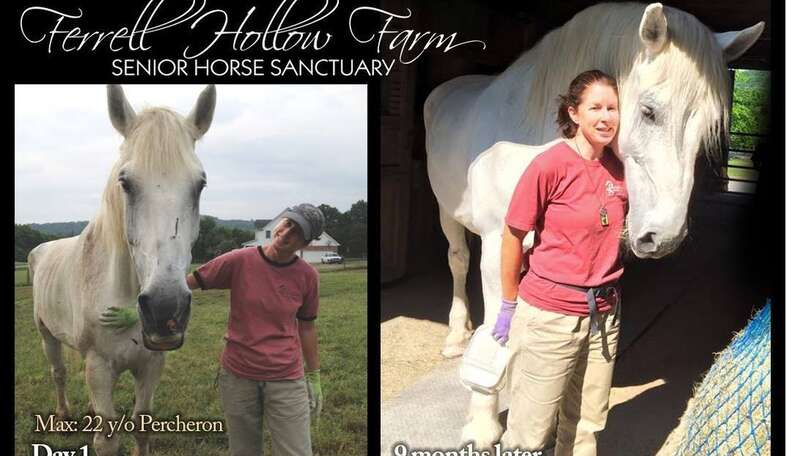 Two years have passed since their rescue and the two horses now relish spending time together at the sanctuary, where they're both healthy, strong and quite pampered.
Recently, Arthur has been proud of show off his braided, blonde mane. The hairstyle is for more than just show - it actually helps keep him cool in the Tennessee summer heat.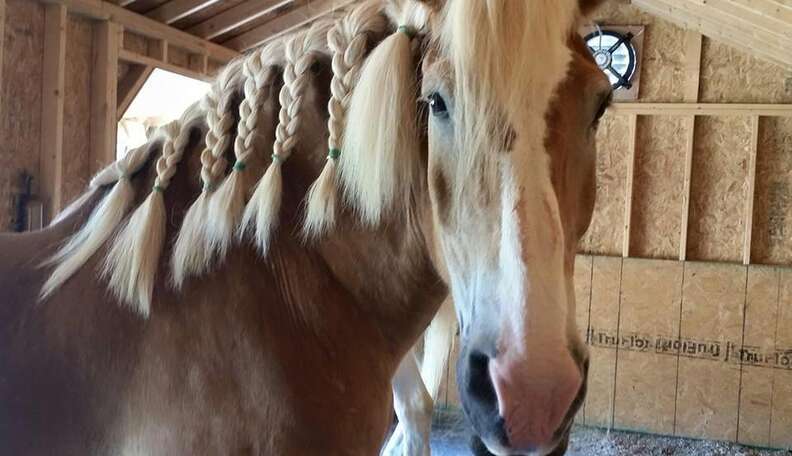 "When he arrived his mane was so short because it had been roached, as many work horses have that done so it's no maintenance," Daigre said.
"He has the thickest mane ever and it flops on both sides. So last week I decided to braid him to keep his neck cooler. He kept turning and looking at me like, 'Really?'" Daigre continued.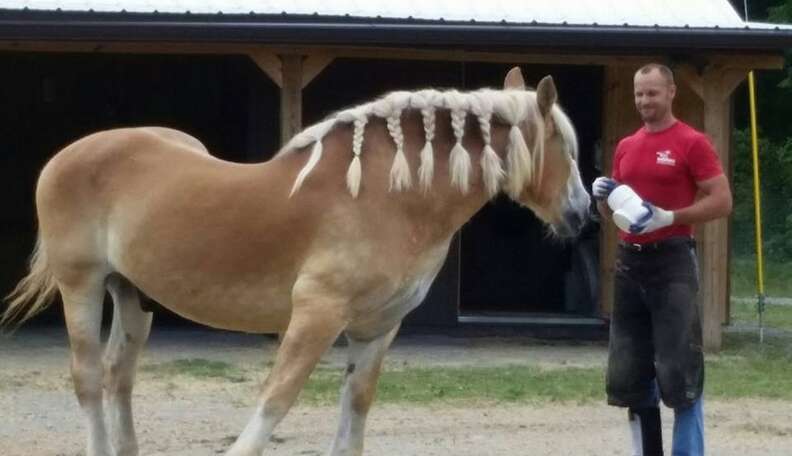 Surprisingly enough, despite Max's initial fear, Daigre said he is the more dominant horse while Arthur is more submissive in their friendship. "However, they do care for each other and would be upset if they were to be separated," she said. "[They have] a friendship formed through tragedy and then compassion."
You can keep up with Arthur and Max's adventures on Facebook.
Watch this video about a horse who couldn't get enough of his huge soccer ball: