Rihanna Swims With Sharks, Doesn't Get Eaten
<p><a class="checked-link" href="http://instagram.com/p/yszH6_hM9f/?modal=true" target="_blank">Instagram/badgirlriri</a></p>
Here she is still not being eaten.
Here's Rihanna still swimming around in a tank with a shark and still not being eaten. Notice how the shark doesn't even care that Rihanna's there? That's because sharks aren't scary and they also don't care if you're a celebrity.
This shark could very well be thinking, "Ho hum, this day is so boring. Oh there goes a human. How NOT INTERESTING to me."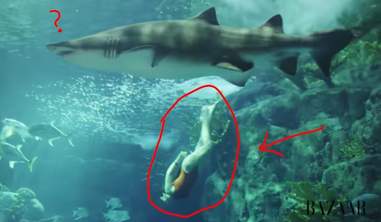 Oh no, it's eating her! Just kidding: That's not real.