Humans are as much animal as the sentient beings we use for food, clothing, research, experimentation, work, entertainment, slavery and companionship.
With this as its premise, my mission with "We Animals" is to break down the barriers that humans have built which allow us to treat non-human animals as objects and not as beings with moral significance. Non-human animals are all around us, but as leather, not as cows. As ribs, not as pigs. As fur trim, not as foxes. As dissection subjects, not as frogs. As filet sandwiches, not as fish. As tools for education, not as bored polar bears in a zoo. With each photograph and each story, I hope that we'll remove our blinders and start to really see animals in our society. Only if we learn, can we change, and become kinder and more accountable stewards of this earth.
Ron, Save the Chimps, Fort Pierce, Florida, 2009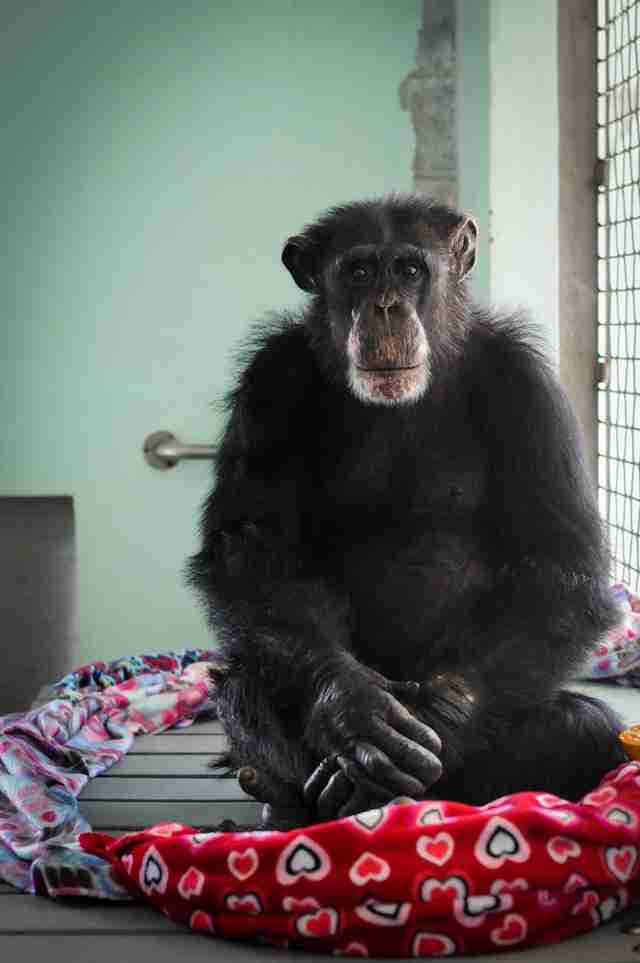 Ron was subjected to invasive surgeries and procedures as a test subject at U.S. research labs. After being rescued by Save the Chimps, although he had access to several acres of roaming space at the Florida sanctuary, Ron preferred, for the most part, to stay indoors, comforted by the circular nest of blankets that he would place around him. He died peacefully at 35 years of age, and it is to Ron I dedicated my book, for his inherent dignity and brave heart while carrying the burden of "progress" on his broad shoulders.
Polar Bear in Captivity, Toronto Zoo, 2005
Kunik came to the Toronto Zoo as an orphaned cub. He was 25 years old when this photo was taken. A year later, a mosquito bit him on the nose. He contracted encephalitis, became paralyzed, and died. He spent much of his days swimming in this tank.
Fox Fur Farm, Europe, 2012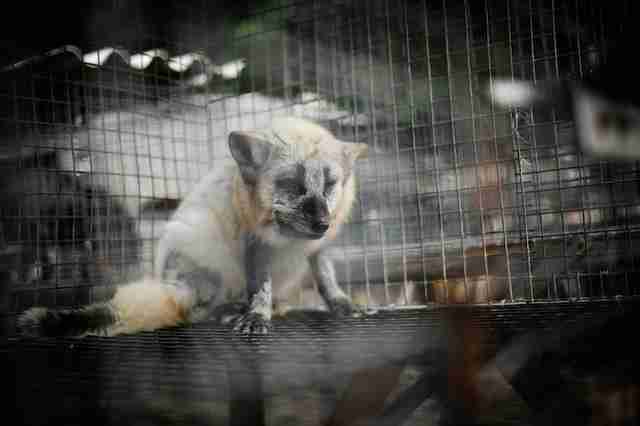 Millions of fur bearers live and die in conditions such as these at fur farms around the globe. While the babies are taken away to be gassed or electrocuted for their fur, the "breeders," such as this Calico fox, will spend years in tiny cages that usually have nothing but wire for a floor.
Wet From Birth, Organic Dairy Farm, Spain, 2010
I documented the birth of this calf born at an organic, free-range dairy farm. Once the mother had licked and nuzzled her baby and watched over her as she stood for the first time, a farm hand dropped her into a wheelbarrow. Wet from birth and moments after her first steps, this calf was wheeled away from her mother. A year after I took this photo I learned the calf had also become a dairy cow.
Appolinaire Ndohoudou nad Pikin, Ape Action Africa, Cameroon, 2009
Many baby apes are orphaned when their mothers are killed for bushmeat. Pikin, a juvenile gorilla, was rescued and is cared for by Ape Action Africa. Like other animals, she cannot be released back into the wild. Here, she wakes unexpectedly from sedation while being transported to a new sanctuary enclosure. Luckily, she was in the arms of her trusted caretaker Appolinaire Ndohhoudou and remained calm during the drive.
Chatuchak Weekend Market, Bangkok, Thailand, 2011
At Bangkok's busy weekend Chatuchak market, hundreds of stalls sell live animals, most of them as pets. The authorities are clearly nervous about how outsiders might perceive this part of the market, since "No Photography" signs were posted everywhere I looked. For the length of a city block, vendors lay out thousands of fish, eels, turtles, stingrays and other animals in tiny plastic bags. Some of the animals can live up to two hours in plastic bags; others, two or three days.
A Deer in the City, New York, 2005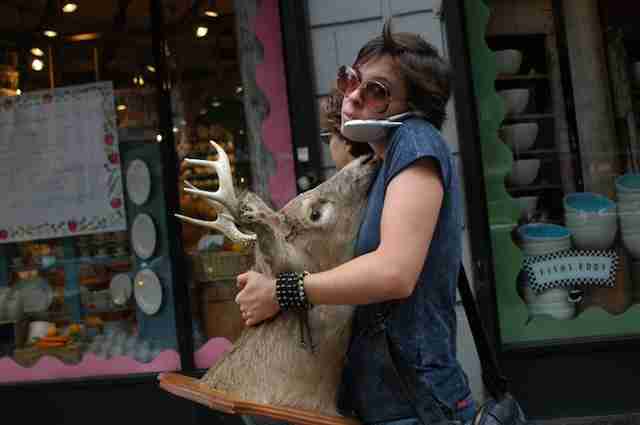 The bodies of animals are all around us, and in many forms. This young woman strolled past me in Manhattan, clasping a taxidermied deer head while talking on her phone. This photograph shows how close we are to animals and yet how far away, even wild creatures, in a distracted moment, in the middle of a city.
Bullfighting spectators. Spain, 2010
In the foreground of this photograph are a man and a woman, one with a cigar wedged between chubby fingers and the other, with painted nails and a fan. At bullfights, it often seems as though the spectacle of we humans is the main attraction whereas the animal is, as in so many cases where animals are used for entertainment, the afterthought.
Open Rescue with Animal Liberation Victoria. Australia, 2013
Four activists visit a factory farm and remove 3 piglets who were dying or marked for death (with a painted green X on their backs). You can see the silhouette of one of the piglet's faces in the arms of ALV's president, Noah Hannibal (second person from the right). The piglets were given veterinary care and lots of comfort. Two survived and will live out their lives with the humans who adopted them.
Jo-Anne McArthur and Orlando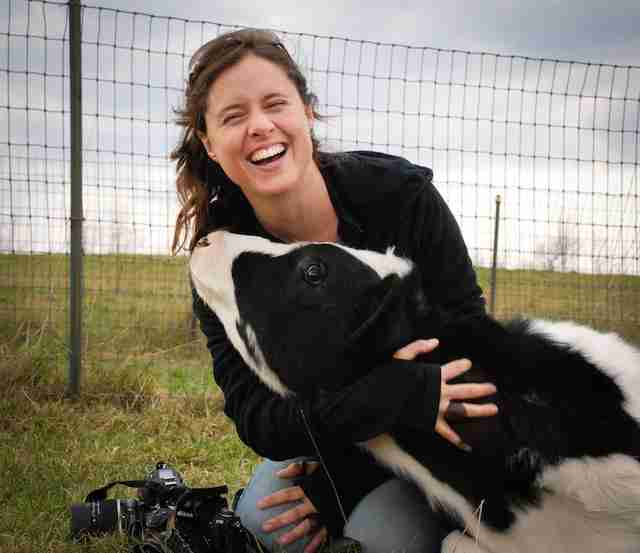 This photo of me with a rescued calf named Orlando was taken at Farm Sanctuary in Watkins Glen, NY, like all males born to dairy cows, are regarded as useless by milk producers and often sell at livestock auctions for a few dollars each when they are just a few days old. Orlando and ten other calves were purchased by a man to raise for cheap beef, but when all the calves grew ill, he shot six before authorities intervened. Photo credit: Nick Ugliuzza