The world's top zoo organization has been accused of hiding ties to the brutal dolphin slaughter that happens every year in Taiji, Japan.
The animal welfare organization Australia for Dolphins filed a lawsuit in a Swiss court on Monday alleging that the World Association of Zoos and Aquariums (WAZA), a community of 1,300 zoos and aquariums, helped one of its members to secure dolphins caught in the Japanese drive hunt.
"I've seen the captures first hand," Sarah Lucas, CEO of Australia for Dolphins, said in a release. "They are so violent that many dolphins die from drowning, cardiac arrest or other injuries sustained in the brutal round-up process. When I went to WAZA's headquarters in Geneva to discuss my concerns a representative dismissed them, and excused the hunts as 'cultural.'"
WARNING: Contains graphic images
The dolphin hunt, which was revealed to the world by the 2009 Oscar-winning documentary "The Cove," is held every year from September to mid-March. While proponents claim that the practice is steeped in tradition, animal advocates say that the drive as we know it only began in 1969, when speedboats could be used to herd the animals into the cove in massive groups. The animals are pushed into the cove and taken under tarps, either to be put into pens for training or slaughtered with a spike in their heads.

The live capture industry for marine parks and aquariums is lucrative: Hunters can earn some $41,600-$47,746 for a trained dolphin, and brokers rake in millions in revenue over the season. The dolphins who are not chosen for a life in tanks are butchered for their meat.

The whale and dolphin database Ceta-base reports that more than 5,000 dolphins have been killed in Taiji and 750 captured for aquariums over the past five years. In recent years, the total number of dolphins caught in Taiji has been declining, but the number of dolphins sold to marine parks has nearly doubled.
A statement about the Taiji drive fishery on WAZA's website reads:
WAZA does not support, and has never supported, the Taiji dolphin fishery in any way. To the contrary, WAZA has attempted to intervene directly, and has endeavoured to use its influence to bring to an end a practice which surely has no place in modern times.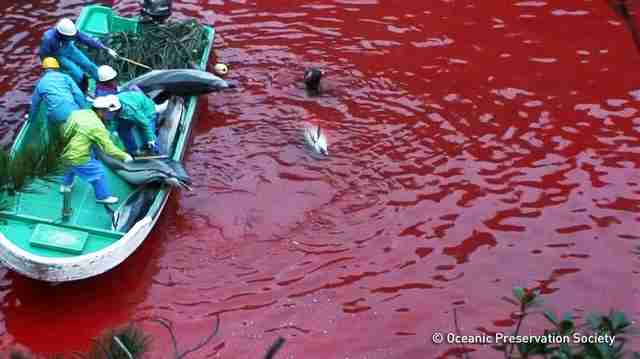 The executive director of WAZA, Gerard Dick, told the Guardian that the organization had tried to urge JAZA to end drive hunts.
"WAZA is not in any way or form participating in the drive hunts," he said. "We were informed by JAZA that there is a change of catching practices planned, implying that in the month of September only bottlenose dolphins shall be taken alive by Japanese aquariums. No lethal takes would occur during this month."
The lawsuit says that WAZA has not forced JAZA to live up to its "code of ethics," which bars drive fisheries.
Kazutoshi Arai, the chairman of JAZA, told the Guardian that his organization chose their dolphins first last September, and that while WAZA did not explicitly voice concern over the roundups, "The killing of dolphins in Japan is approved by the government, so that's not WAZA's concern."