Pit Bull Who Was Paralyzed Learns To Swim Instead
He's determined to use his legs again.
A pit bull mix named Eddie Milo was left without the use of his back legs after a suspected car accident.
Second Chance Rescue (SCR), an organization in New York City, took in the paraplegic pit bull and searched for options to help him recover. Eddie Milo's rescuers landed on something called hydrotherapy.
Eddie Milo having fun during passive range of motion treatment

| Ashley Garcia
A new approach to healing pets with injuries like Eddie Milo's, hydrotherapy, or water therapy, has gained popularity in recent years, and is poised to make a difference in countless animals' lives. Water therapy has been recognized as a beneficial form of rehabilitation in both humans and horses for many centuries, according to Horse & Hound.
Only within the last few decades, however, has water therapy spread to help dogs as well. While initially gaining traction in the U.K., hydrotherapy centers have begun popping up in the United States.
Eddie Milo in his kennel before therapy

| Kellie Stevens
Water4Dogs in New York City is one such water therapy rehab center that, in addition to hydrotherapy, incorporates holistic and "dry therapy" treatments, such as range of motion (measuring the movement around a specific joint or body part), massage, stretching, acupuncture and cold laser treatment - a specialized treatment that penetrates deep tissue and stimulates the release of healing chemicals within the body.
Today, Eddie Milo is perhaps one of the more widely known patients at Water4Dogs thanks to social media. He has been working with dry therapy and hydrotherapy for a month now to great results.
Therapist Jennifer Hall with Eddie Milo on the underwater treadmill

| Kellie Stevens
Since starting therapy, he has shown remarkable progress and signs of movement in his back limbs during tail stimulation. "With damage to the spine and paraplegics," Jennifer Hall, a therapist at Water4Dogs, told The Dodo, "getting the nerves and the brain to communicate is a big deal."
The Water4Dogs team is hopeful that, with continued therapy, Eddie Milo may regain use of his back legs someday. This hope is supported by the story of a small dog named Max. Neurologists referred Max to Water4Dogs after he was attacked by another dog, according to therapist Ashley Garcia. He suffered a spinal injury that caused tetraparesis (paralysis of all limbs), but through rehabilitation is now able to walk again.
Max on multiple physio rolls, which help with balance, strength, weight-bearing/shifting and stretching

| Ashley Garcia
Another Water4Dogs patient, an 11-year-old golden retriever mix named Riley, began suffering from arthritis years ago.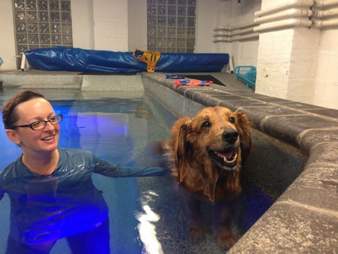 Therapist Jean Marie Cooper and Riley

| Kellie Stevens
His mom, Vaydre Parsons, began looking for something to help with his muscle and back issues and, after much research, decided to give hydrotherapy a try.
Therapist Jean Marie Cooper and Riley

| Kellie Stevens
For three years now, Riley has been going to Water4Dogs once a week for a combination of hydrotherapy and dry therapy treatments. "She's always energized after we leave, and it has just made the biggest difference," Parsons told The Dodo.
Riley

| Kellie Stevens
Parsons said she can always notice a difference in Riley if they have to skip a session. She feels the therapists genuinely care about the wellbeing of her dog.
After receiving her dry treatments, Riley spends some time on an underwater treadmill, which promotes strength using buoyancy, resistance and controlled movements. Then she goes into a heated pool (generally 80 to 90 degrees Fahrenheit) with a therapist named Jean Marie Cooper to work on her range of motion and overall fitness.
While swimming may not have been her favorite activity, Riley was well taken care of by Cooper, and encouraged by her mom.
Thor, a Water4Dogs patient, in the hydrotherapy pool

| Ashley Garcia
About 80 percent of Water4Dogs' clients come in for basic rehabilitation, with the most common reason being recovery after breaking a bone. However, ideal candidates also include animals who experience ongoing medical problems, senior pets looking to prevent injury and strengthen deteriorating joints, pets with neurological issues and even those with spinal cord injuries that prohibit movement in limbs.
Dr. Dipolo administering cold laser treatment to a patient named Kodi

| Ashley Garcia
Though not all dogs take to the water immediately, most are genuinely excited when they realize they are coming in for treatment. "They get very excited coming off of the elevator," Tanya Reynoso, another therapist at Water4Dogs, told The Dodo. "Clients tell us their pets know at a certain point in their route that they're coming to us. They're very interested in the time they share with us."
A happy Scout after completing some dry therapy exercises

| Lara Dellar
Scout, a 6-year-old golden retriever, has been attending Water4Dogs for about seven weeks now, after tearing an ACL during off-leash time in Central Park earlier this year. Scout started dry therapy the week after her ACL operation two weeks ago, Larry Green, Scout's owner, told The Dodo. Scout has always loved swimming, so beginning hydrotherapy has been a really fun recovery activity for her, Green said.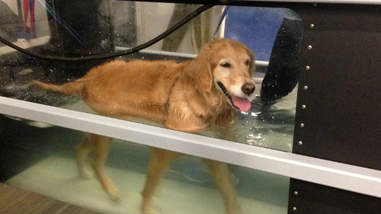 Scout on the underwater treadmill

| Kellie Stevens
Also, though dogs make up the majority of the Water4Dogs clientele, it does have some cats on its treatment roster as well. Cats present a different set of challenges, as they generally don't like water and are often difficult to keep still for dry therapy, according to DiPolo.
Dr. Jonathan Block, another Water4Dogs doctor, performing acupuncture on Balthazar the cat

| Water4Dogs Facebook
However, the benefits of water therapy can outweigh the obstacles in getting cats to accept treatment, and therapists are skilled in working with both types of animals.
Of course, pets aren't the only ones who enjoy their time at Water4Dogs. If one common theme came up among the veterinarians and therapists at the facility, it would be how rewarding their work is.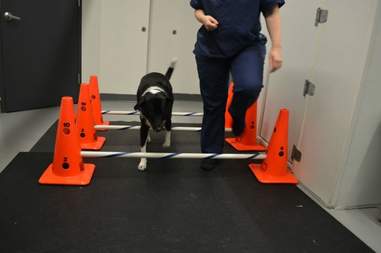 Hamlet, a Water4Dogs patient, on the cavaletti bars

| Ashley Garcia
Happy therapist Cooper with Thor after a good swim session

| Ashley Garcia
To learn more about Water4Dogs or to look into a vet referral, please visit the website here.