Finally, weeks after an abused elephant named Sunder was at last freed to a sanctuary in India, the animal is finally starting to settle in to his new home -- and getting healthy again.
Sunder was the subject of intense international scrutiny for years, having been passed from one abusive facility to the next. Several exposés revealed that he was abused, neglected and receiving inadequate nutrition. At his worst, Sunder was a heartbreaking sight to see:
PETA India But things have really turned around for Sunder, thanks to rescuers from PETA India. Not only does he look like he's enjoying himself at the Bannerghatta Biological Park in Bangalore ...
... he also seems to be making new friends.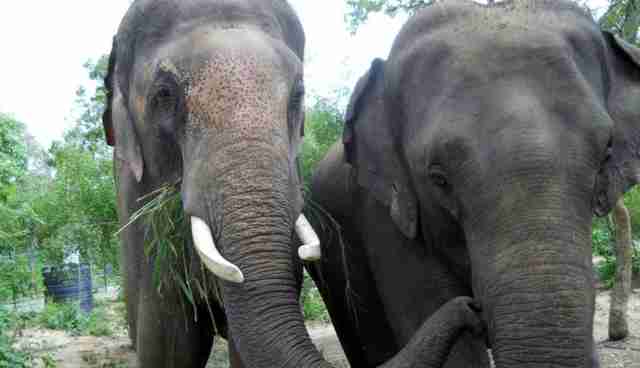 The Times of India also reports that Sunder is healing from his wounds and getting healthy, thanks to the care of his handlers:
A new mahout has been appointed for Sunder by BBP and People for Ethical Treatment of Animals (PETA). Necessary treatment for the underlying wounds is being done by zoo doctors. Sunder's appetite has been improving ever since. He has now started consuming rice and ragi balls along with the adlib green grass also being fed to it.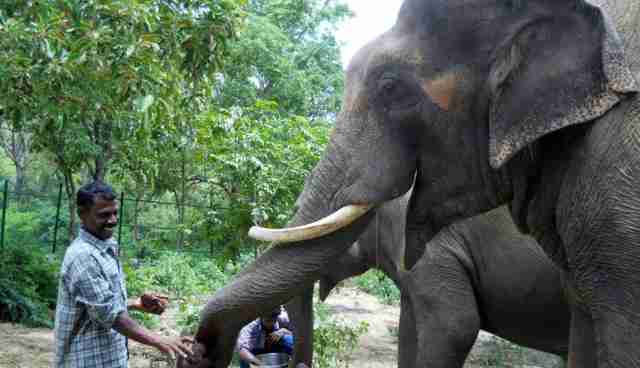 PETA And now -- unlike before -- Sunder's got lots of room to roam.