Watch Researchers Microchip Kenya's Endangered Black Rhinos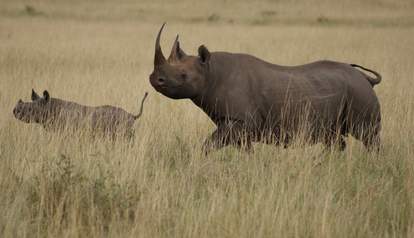 In an episode that looks as if it came right from an action movie, a group of conservationists, researchers and veterinarians in the Mara region of Kenya set out to begin the country's rhino horn microchipping project -- a groundbreaking program geared to protect endangered black rhinos.
"If Kenya loses its rhinos, it will lose its heritage," says Robert Nedeti, species manager at WWF Kenya.
ACTION GUIDE: Wildlife Trafficking
Every year, wildlife traders reap a collective $10 billion to $20 billion in profits from poaching and trading products like rhino horn, ivory, alligator skin, tiger paws, eggs, bushmeat, live animals used as pets, and much more -- not to mention illegal live animal sales. HSI has developed this guide to help avoid buying products made from this illicit trade. Born Free USA has this helpful state-by-state guide on which animals are illegal to own (many because they are illegally obtained). For more information, or to become more involved in this issue: WWF's anti-trafficking campaigns, Save The Rhino, and Traffic.