For bugs and small lizards living in Thailand, anywhere within 6 feet of an archerfish is a danger zone. These fish can spit jets of water with surprising force, knocking unsuspecting prey off of leafy perches. Archerfish have to make sure a large glob forms at just the tip of the spray, to achieve maximum impact - making them the only animals known to manipulate water in this way.
(Ingo Rischawy; Schuster lab, University of Bayreuth)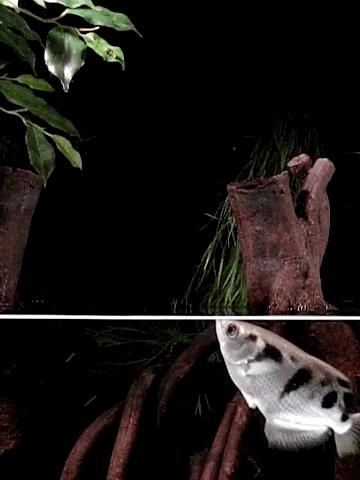 It turns out that the aptly-named archerfish can shoot down their prey thanks to subtle shifts in the position of their mouths, a team of researchers at the University of Beyreuth, Germany, reported Thursday in the journal Current Biology.
A forceful, accurate shot is the key to an archerfish's success. The fish have "very little to actually shoot at," says Stefan Schuster, an animal behavior expert at the University of Bayreuth and one of the study authors, in a statement. "It pays to be able to powerfully hit prey over a wide range of distances."
Schuster and his colleague, Peggy Gerullis, recorded nine trained archerfish to squirt water at targets between 8 inches and 2 feet away. (They'd give the fish flies as rewards after a successful hit.) The fish make "gun barrels" between the roofs of their mouths and their hard tongues, the scientists write, and tweaking the way water travels through this barrel gives the fish their deadly aim.
(Ingo Rischawy; Schuster lab, University of Bayreuth)
The researchers draw parallels between the archerfish's spitting skills - timing the water jet to hit a mark just so - and the way humans handle weapons. "One of the last strongholds of human uniqueness," Schuster says, "is our ability to powerfully throw stones or spears at distant targets."
One line of thought, according to Schuster, is that precision throwing translated to more neural activity and bigger brains. "With the many neurons around, they could be used for other tasks apart from applying them for powerful throws," he says. "It is remarkable that the same line of reasoning could also be applied to archerfish."
There's no doubt that these fish have mastered the physics of squirting water. (They also have to calculate where a target is when looking up from below, which isn't an easy task thanks to the way water bends light.) As Aatish Bhatia explains at Wired, an "archerfish hunts with a working knowledge of motion, gravity, optics, and fluid dynamics" - a set of sharpshooting skills any human superspy would envy.