Watch Nurse Who Beat Ebola Reunite With Her Beloved Dog Bentley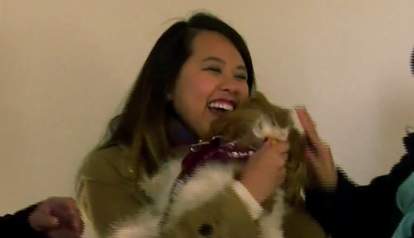 <p><a class="checked-link" href="https://www.youtube.com/watch?v=3tffmsuNykk">YouTube/Dallas City Hall</a></p>
It's been a long and challenging past few weeks for Dallas nurse Nina Pham and her little dog Bentley. After Pham tested positive for Ebola, Bentley was placed under quarantine, free of direct human contact, while his owner fought for her life. But now that both have been declared free of the deadly virus, they are together again.
On Saturday, the day finally came for Pham to be reunited with Bentley, whom she describes as her "best friend." And what a happy reunion it was.
It's only thanks to this humane approach, one which gave value to the life of a pet, that Pham and Bentley's reunion was possible.
"After I was diagnosed with Ebola, I didn't know what would happen to Bentley, or if he would have the virus. I was frightened that I possibly would not know what would happen to one of my best friends," Pham told the press.
"Thank you again for helping take care of Bentley over the last 21 days, caring for him as if he was one of your own, and showing America that compassion and love is abundant and alive."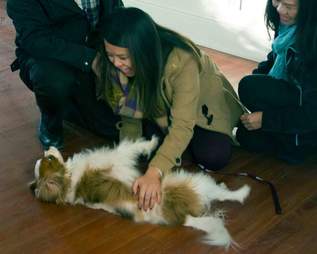 (Facebook/Dallas Animal Services)
Jody Jones, director of Dallas Animal Services, says that the time and energy devoted to ensuring that Bentley was taken care of came as its own reward.
"It was one of the most gratifying experiences I think the entire care team has had in keeping him happy and healthy and safe here in Dallas, as well as being able to reunite him with Nina. We're just so grateful for that opportunity."
(Facebook/Dallas Animal Services)
It will still take time for life to return to normal after Pham and Bentley's long ordeals - but now that they're back together, things are already starting to feel that way again.
"It feels like Christmas, literally. It's just such a joyous occasion - just one step closer to me feeling whole again during this recovery process," says Pham. "Having my best friend back is an amazing feeling."
According to the Centers for Disease Control, dogs are considered to be a low risk in terms of spreading Ebola.