The team at our Watamu Sea Turtle Volunteer Project have had a fantastic start to 2015 with a record number of nests, plenty of recoveries in the rehabilitation center, eager children keen to learn more about their environment, fishermen with an increasing interest in conservation and much more!
Over the last three months the rehabilitation center has been home to 10 turtles, many of them in need of constant care to survive. Hawksbill turtles Phanice and Casper were both released after arriving at the center with signs of exhaustion and stress. Two green turtles welcomed by the team underwent surgery to remove fibropapillomatosis. This is the presence of benign tumors on the soft tissue which can be debilitating. One of these patients, named Sheldon, arrived with multiple tumors. Thanks to surgery, Sheldon made a full recovery before being tagged and released.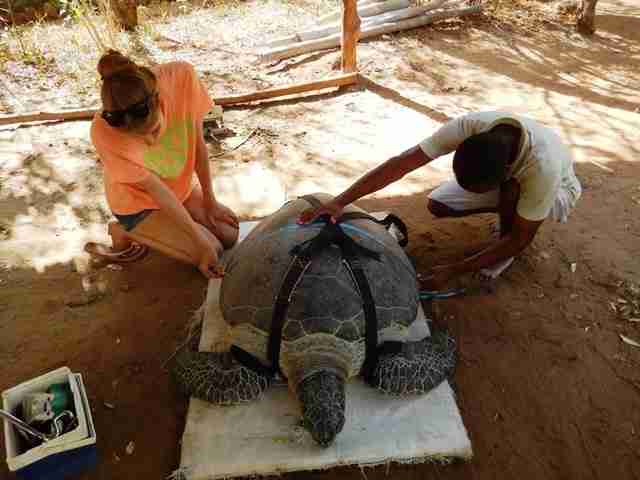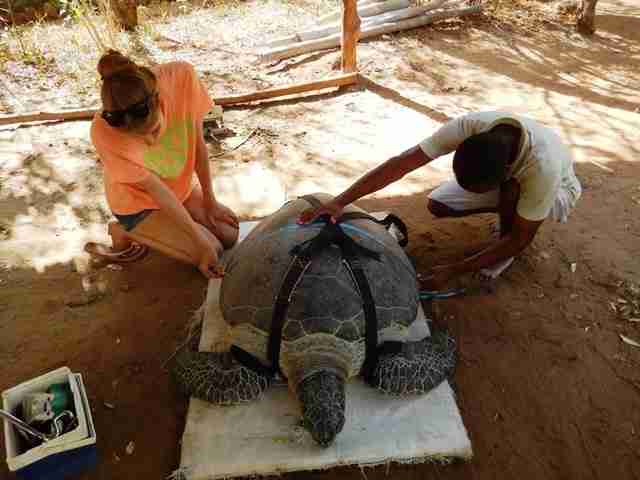 Hawksbill turtle Bobby was brought into the center after he was caught by a fisherman. He had sustained some minor injuries and was struggling to control his buoyancy. It may be some time before Bobby is released back into the ocean but for now he is enjoying regular sea baths which allow the team to monitor his swimming ability.
The By Catch Release Program is another integral part of the conservation work carried out in Watamu. Early in the year the team conducted their 12,000th turtle release; a huge milestone for the program. So far in 2015, 425 turtles have been released, bringing the grand total to 12,416. Each one of these turtles has been given a second chance, but sadly some are not so lucky. A sub-adult hawksbill turtle tagged by the team in 2010 was found washed ashore with bruising on her front flippers, most likely from entanglement. Cases like this one are a reminder of the importance of the By Catch Release Program.
There were plenty of eggs this Easter for the team in Watamu. So far 2015, has seen a total of 22 nests and the beaches are being carefully monitored each night to protect the nesting turtles and keep their eggs safe. Two nests have hatched already and 146 hatchlings have made their first dash to the ocean. This year has also seen the first olive ridley nesting since 2013!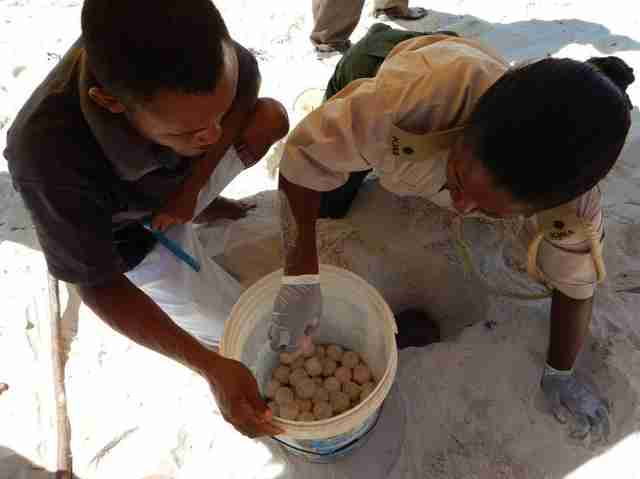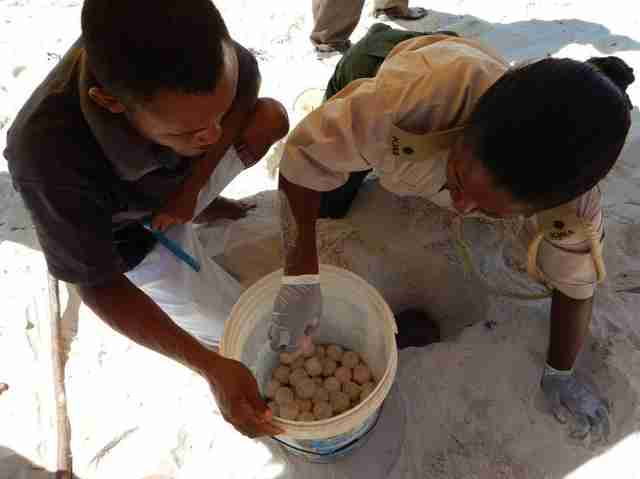 Inspired by the commitment of Watamu Young Fishermen, a group of 30 young fishermen in Darakasi approached our Community Liaison Officer. Appalled by the amount of rubbish and ghost nets on the reef they have been working hard to clean up the area. Many of these fishermen were still using illegal fishing methods such as spear gunning and our Community Liaison Officer has been educating the group on topics such as sustainable fishing methods and sea turtles.
Conservation education doesn't stop there with 27 local schools visiting the project so far this year. Many of these children have never been taught about the marine environment and are not aware of the existence of the Watamu Marine National Park, but staff and volunteers at the Watamu Turtle Project are working hard to change this. Students from the Kenya Wildlife Service Training Institute also visited the center along with international schools Sand Piper and Braeburn Mombasa. We are happy to report that all this conservation education is really having an impact and several schools have now organized beach and village clean ups.
To find out more about the work carried out in Watamu and how you can help make a lasting difference, click here!