This story originally appeared on The Insatiable Traveler.
I am oddly riveted by warthogs, which, if I am being totally honest, is mostly due to their "unique" (translation: ugly) faces. I stare at them for the same reason people slow down at car crashes: it's gruesome but you kind of want to see it anyway.
And as it so happens, when an animal is that ugly, they lean towards being cute once you've been around them long enough.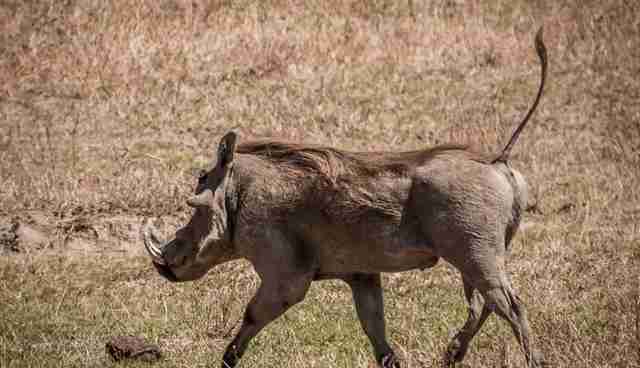 Tail high in the air as it runs, this warthog looks like it's remote-controlled.
Warthogs are built like tiny compact torpedoes, and except for the Mohawk that runs down their back, the hair that covers their bodies looks as if they are on their third round of chemo.
Their necks are short, while their legs are relatively long, forcing them to kneel when they want to feed, which I actually find adorable. Somehow it softens the harshness of their tusks, which, according to the African Wildlife Foundation, can grow up to 10 inches.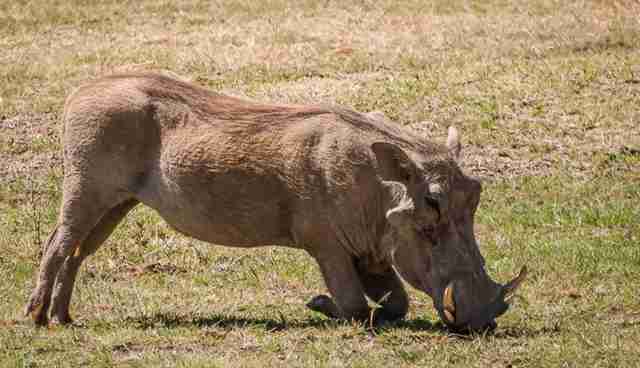 With a short neck and long legs, warthogs have to kneel in order to eat.
I especially love warthogs when they run because their tails stick straight up in the air and they look as if they're remote-controlled, and boy oh boy, are they fast. It's incredibly hard to keep track of them when they're at full speed, which is a big plus when a predator is in hot pursuit.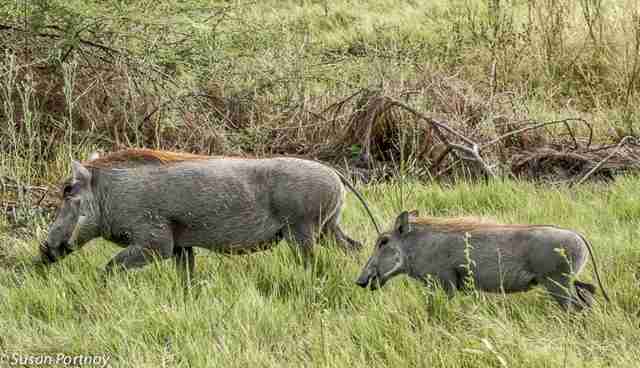 A momma and baby warthog look much better in profile than their dad above straight on.
And since you're interested in warthogs enough to read down this far, I thought you might like some additional fun facts you could always save for conversation at your next party or family gathering.
Two warthogs tusk it out in Kenya. Their namesake warts help to protect their face.
Some fascinating facts about warthogs:
They prefer moist and arid savannas.
They are omnivores and can weigh up to 250 pounds.
They can run up to 35 miles per hour.
They can survive for months without water.
They are delicious if you're a lion, leopard or hyena.
They derive the "wart" in their names from the protrusions on their faces that protect them faces when they fight.
And there you have it: when your friends revel in the depth of your warthog knowledge, do me a favor and send them my way...
For more wildlife stories and photos, click here.