What happened when 500,000 happy dog photos (and a couple pot-bellied pigs and lizards) from all over the world landed in a hospital room with a 16 year-old patient? Well, happiness ensued. ...Indeed!
Anthony Lyons undergoes monthly chemotherapy visits at the Phoenix Children's Hospital. He always looks forward to seeing the hospital's therapy dogs. Unfortunately, the dogs can't always be there so an enterprising family friend, Roberta Lucero-Koron, created a Facebook page for people to send him photos of their happy dogs.
This inspiring and fun campaign has produced a new way of brightening the lives of those in need. Can you even believe there is a therapy lizard out there somewhere? "This has gotten so viral....One thing I have to say is, make yourself smile too by looking at these beautiful animals that God gave us. I can't stop crying from tears of happiness," Roberta Lucero-Koron recently told USA Today.
(Photo credit: Brenda Johnson-Vantussenbroek/Facebook)
What a fun and innovative campaign, we would love to see it repeated 10-fold.
I know that you want to share pictures of your dogs/babies, I am so guilty as well! But now you can show off your dogs for a good cause. You post your pictures and voila everyone is happy. It's too good to be true! Don't be shy, send out those crazy photos and have a party. And here we have a brand new model for dogs helping others, a great opportunity to use the best of get well cards, flowers and emails and instantly reach thousands of people all over the world. Instagram, Vine, Twitter, all of these can be used in addition to Facebook to lift the spirits and show support for those who need it, whether they be the sick, our veterans or natural disaster survivors.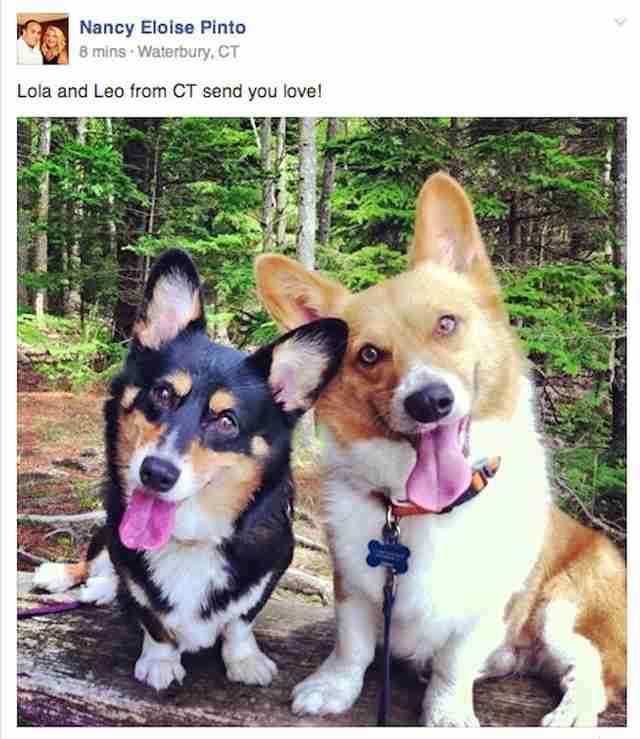 (Photo credit: Nancy Eloise Pinto/Facebook)
Nothing like taking New Media, dogs and fun pictures and mixing them altogether to create an innovative campaign. 500,000 photos strong make for one happy teenager; can you think of all the fun and amazing possibilities? We would love to hear your ideas!