Cecil's Killer Isn't Sorry For What He Did, Returns To Work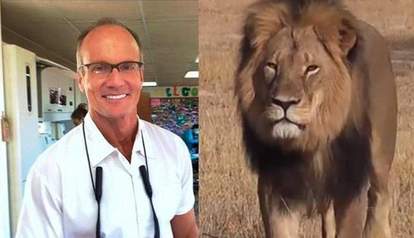 <p> <a href="https://twitter.com/Cosmopolitan/status/626154617907355648">Twitter/Cosmopolitan</a> <a href="https://twitter.com/KP24/status/626368806621851648">Twitter/Kevin Pietersen</a><span></span> </p>
"Everything was done properly," attorney Joe Friedberg, who accompanied the dentist to the interview along with a public relations expert, told the outlet. "This was a legal hunt for a lion in Zimbabwe. And because of the professionalism of the people who had to help him, a lion was taken."
Palmer also denied the oft-reported claims that he paid $50,000 to kill Cecil and that the lion took 40 hours to die, though he would not provide any more details about the hunt, including whether he paid more or less than $50,000 or what happened to Cecil's body.
He also, understandably, expressed concern about the level of vitriol that's been directed against him, noting that his wife and daughter have been threatened on social media. "I don't understand the level of humanity to come after people not involved at all," he told the Star Tribune.
Palmer's hunting guide, Theo Bronkhorst, and the owner of the property where Cecil was shot have both been charged in Zimbabwe. Charges have not been brought against Palmer, who has maintained over the past two months that he trusted his guide and was unaware he was doing anything wrong.
And early on Tuesday morning, Palmer slipped back into his Bloomington, Minnesota, dental practice. He was greeted by a crowd of protesters and a front door covered in slips of paper, bearing messages like: "How about you donate your money to endangered animals instead. Apparently you have plenty." Several police officers were on hand to monitor the situation.
One protester, Cathy Pierce, told the Star Tribune that she wanted to represent animals who don't have a voice. "We need more people to realize our animals are going extinct," she said.
Of course, the best way to raise awareness is by focusing on the animals. If you'd like to find out how you can help make a difference, click here.