Rabbits In Tiny Sweaters Are The Perfect Therapy Animals
Betsy and Walter are two Flemish giants who have a pretty important day job. Naturally, they try to look great while they're doing it.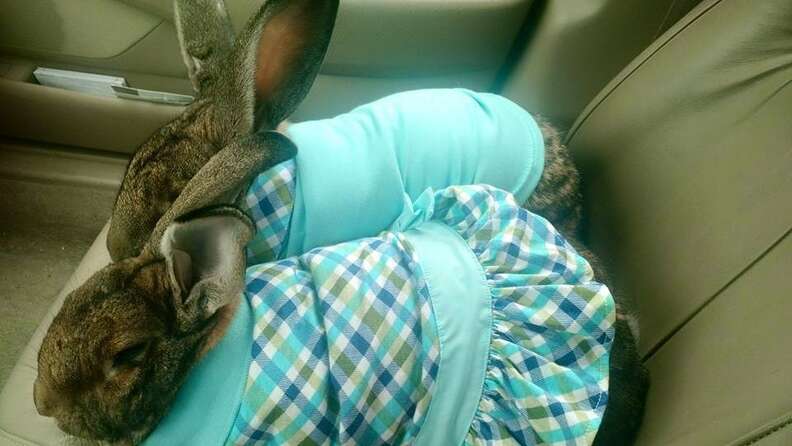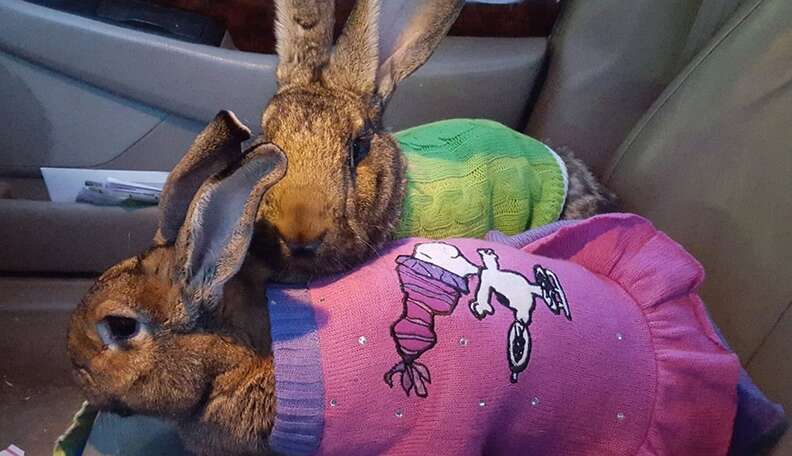 As such, they spend a lot of time with people in need of emotional support at nursing homes, universities and more.
When they aren't visiting places for work, the pair love to hang out with their owner, Jenn Eckert, in Milwaukee, Wisconsin.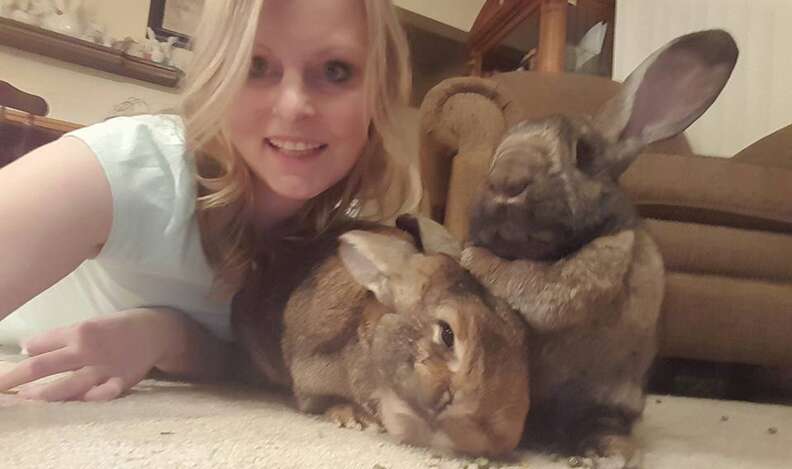 Eckert rescued Betsy, who is now 3 years old, from the Wisconsin Humane Society in June 2013.
"Honestly, my husband didn't want me to get a dog or cat," she told The Dodo. "So the next option was a rabbit. I went with the largest one I could find."
According to Eckert, Betsy was found on the side of a road with her siblings.
"Unfortunately, a lot of people think domesticated rabbits will survive, but their systems are completely different than rabbits in the wild," she said. "They're a lot more sensitive, which is why you really can scare a rabbit to death. They just don't know how to fend for themselves. It's a great thing someone found them."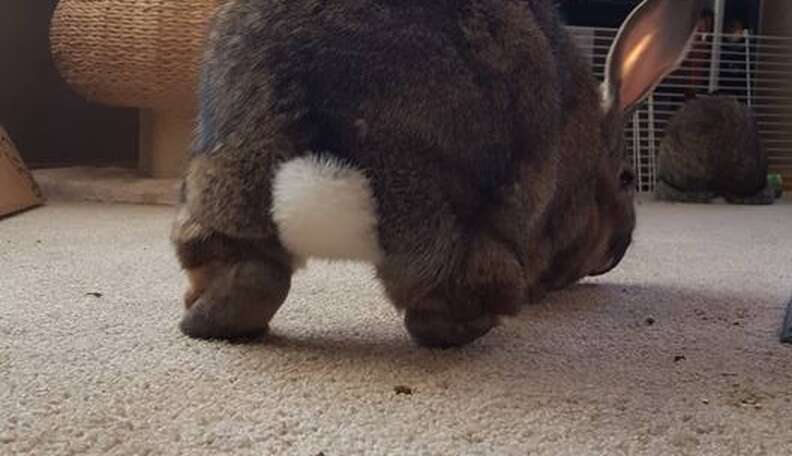 Eckert loved Betsy so much, she ended up going back to the Wisconsin Humane Society to adopt Walter just before Christmas of that year.
"Someone made a [Facebook] post about Walter on Christmas Eve, with no picture," Eckert said.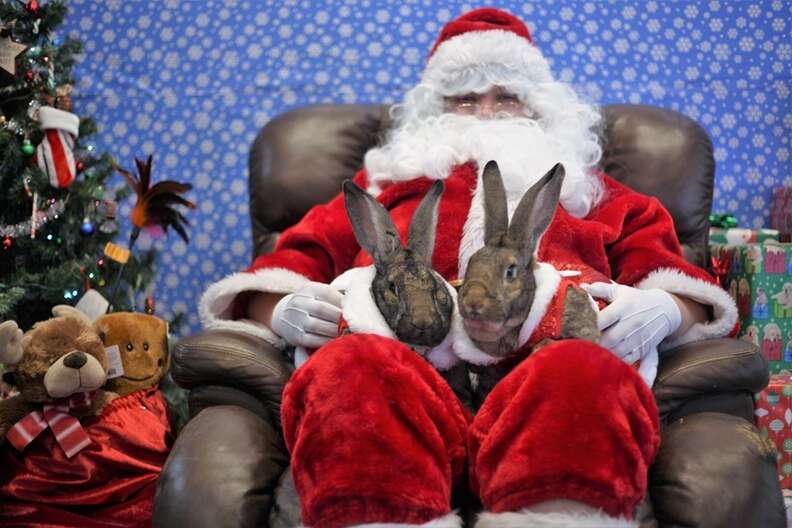 It was only when Eckert came home with Walter, who is now 2 years old, and started looking through his paperwork that she noticed he was born on the same day Eckert's mother passed away.
"I figured [Walter] was her Christmas gift to me," she said.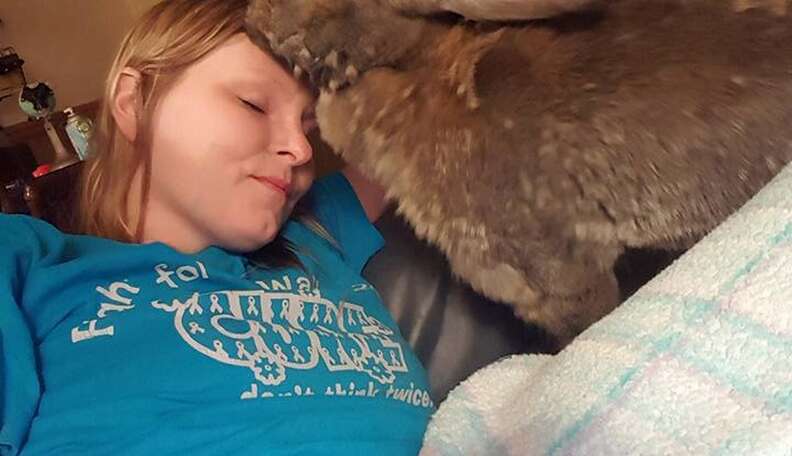 In Walter, she saw the perfect opportunity to help another Flemish giant in desperate need of love ...
... and luckily, he wore the same size as Betsy.
Betsy and Walter, despite forming such a close bond, have complete opposite personalities.
Eckert said that, while Betsy is rather calm and quiet, Walter is a little naughty - in a curious sort of way.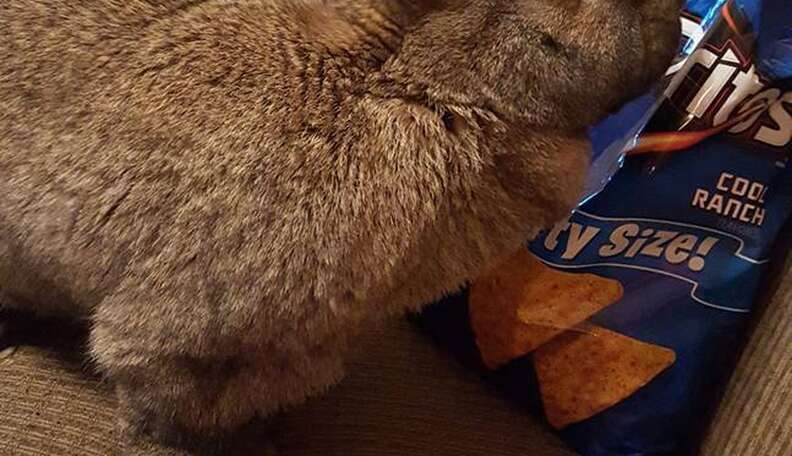 For example, Eckert's caught him more than once on her kitchen table eating out of the fruit bowl.
"When we did have them in a cage - now they're not, they roam freely at this point - Walter figured out how to unlock the cage," she said.
"So we were sitting in the family room on Saturday morning and Walter just came hopping in and went to play in his little toy box like there was nothing wrong," she said. "We went downstairs and Betsy was still in the cage looking at us like, 'I knew he was going to get caught.'"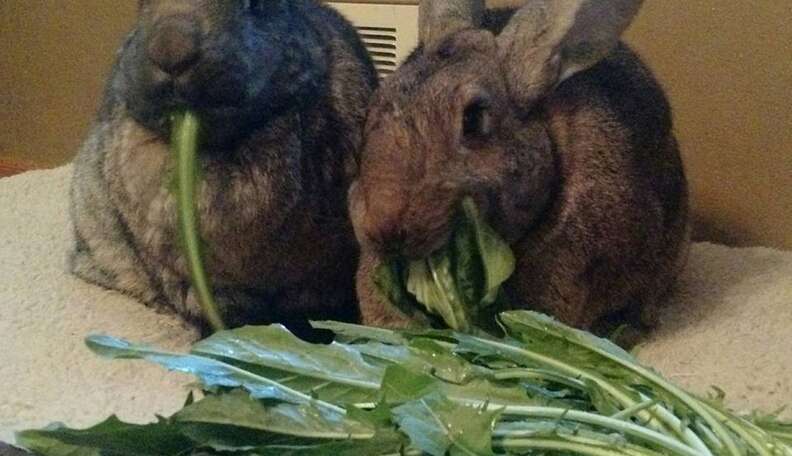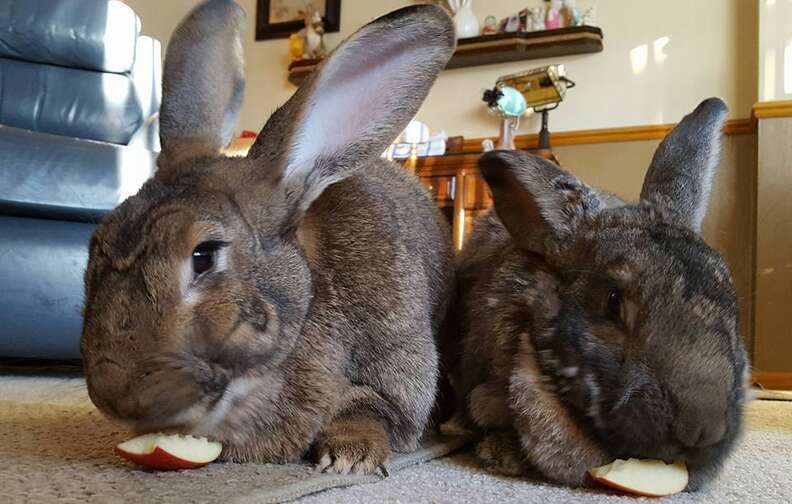 "They're expensive," Eckert explained. "They get anywhere from about 12 to 14 cups of greens a day and that's on top of their hay and pellets." Eckert manages to get scraps of greens from a local grocery store to help her keep up with the rabbits' insatiable appetites.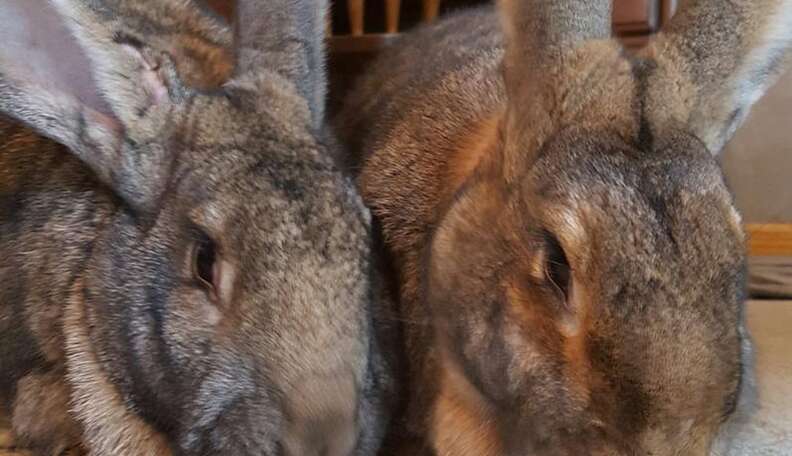 But what they love even more than eating is going out (sometimes in their stroller) and interacting with others.
Walter especially likes going up to people and nudging their ankles with his nose to demand head pats.
More importantly, Walter, who had a rough past, now has a loyal sidekick to keep him company and the best forever family a rabbit could ask for.