Walruses Are Beaching Themselves In Record Numbers
"If they're more frequently going to be on shore with their young and with the increased human activity in those waters, the risk of a disturbance is increased," Andrea Medeiros, a spokeswoman with the U.S. Fish and Wildlife Service, told PBS News earlier this year.
Walruses are just one type of animal that depends on ice to survive.
Mother polar bear leads her cub across thin ice in Norway.

| Shutterstock
The Adélie penguin, which eats krill, a kind of crustacean that lives under the ice, is also at risk of extinction. As the ice melts, the krill have nowhere to live, and so Adélie penguins have a harder time finding food.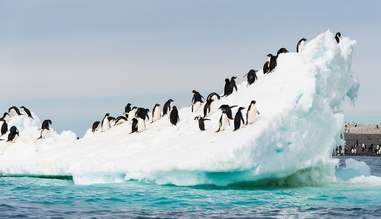 Adélie penguins

| Shutterstock
"As a whole, the planet has been shedding sea ice at an average annual rate of 13,500 square miles since 1979, the equivalent of losing an area of sea ice larger than the state of Maryland every year," found a study released last year by NASA .
The beached walruses, the skeletal polar bears - these images are chilling reminders of what is to come, which scientists are calling the sixth mass extinction - an unprecedented loss of life caused by human impacts on the planet. While the thought of mass devastation can be overwhelming, the worst thing people can do is look the other way.