Wally The Rabbit's Mom Shares His 'Before' Photo With The World
But he wasn't always so dapper.
On Thursday, Wally's human, Molly, shared a photo of the Instagram-famous bunny before his first signature haircut.
"This is a photo of Wally's first Halloween in his baby yak costume," she wrote. "Just kidding ... this is really a photo of Wally before we ever did snippies [Wally-speak for haircuts]. I tried so hard to learn to brush him, but he became so anxious that he couldn't tolerate grooming sessions for more than a few minutes."
"Look at that gnarly puff!" she added. "That's more than a few minutes of de-matting!"
For reference, here's a photo of what a nicely brushed Angora rabbit should look like: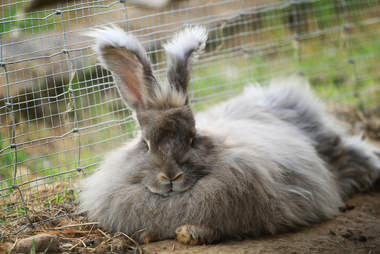 Shutterstock
While any photo of Wally is bound to be adorable, his pre-grooming photo serves as an important reminder about rabbit care. Rabbits are famous for being much more work than many people expect, and each year hundreds of rabbits are abandoned when their owners realize they can't care for them - and still more live sad lives in cages when their owners stop trying.
Fortunately, Wally has a great owner who came up with a special solution to the bunny who didn't like brushes - and now makes sure other owners know how much work they can be.
"While I'm truly honored that Wally is so loved, it's very unwise to buy an Angora - or any rabbit - without sufficient knowledge or preparation," she wrote in a recent post. "Please, don't get a rabbit - and especially not an Angora - if you cannot be certain that you can provide the rabbit with an environment and level of care that is critical to the bunny's well-being."
But all's well that ends well. And in Wally's case, it ended very well indeed.
Thinking of getting a rabbit? Make sure you do your research first, and adopt, don't shop!
Need more Wally? Watch a video of him in action below.