I recently had the fabulous opportunity to walk alongside Jim Nyamu, executive director of the Elephant Neighbours Center in Nairobi, Kenya to raise awareness of the need to conserve elephants and their habitats.
Jim has been walking for elephants for over three years and in that time has racked up a fair few miles in different countries around the world. This includes a 50 day walk of 1,000 miles through Kenya and a 510 mile walk from Boston to Washington D.C. in America. His latest walk is from the south coast to the north coast of Kenya, an impressive 375 km over 15 days.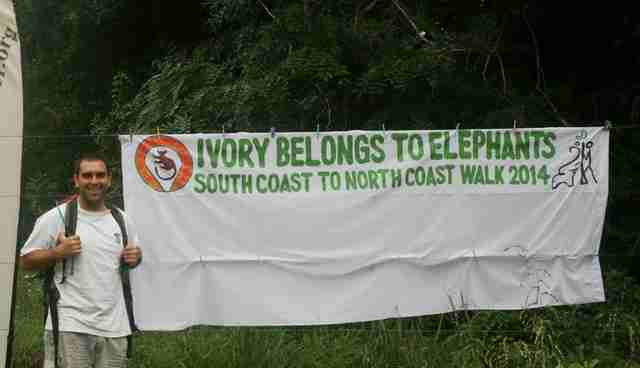 The day started in the county capital Kwale, where there were local schools singing songs and reciting poems about the need to conserve elephants. Speeches then followed from the Kenya Wildlife Service (KWS), the county commissioner and Jim who at one point said "if we don't act now, future conservationists will only be able to be managers of Mosquitoes." With that over we got under way around 10 am with the skies looking grey, but the people looking full of optimism.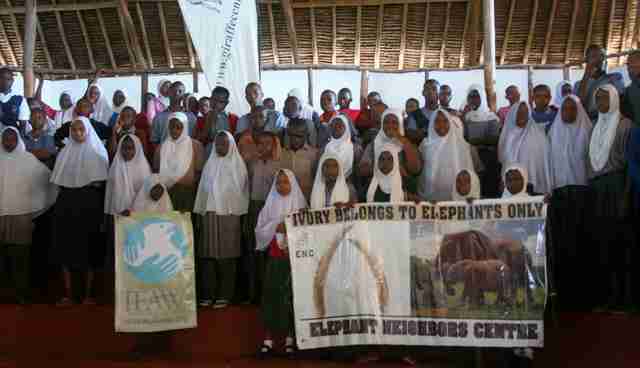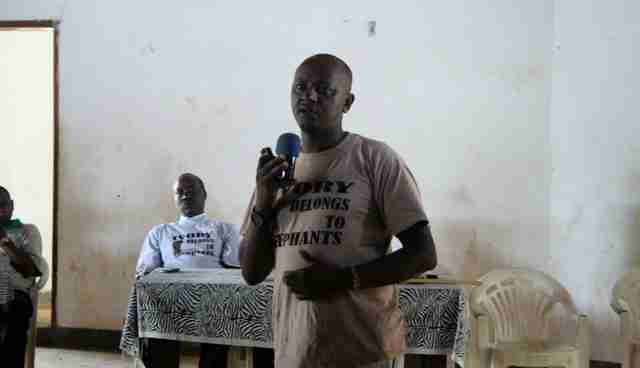 Sure enough within an hour we had some rain. But the scenery of walking in the Kenyan countryside was truly amazing. In every village we passed, Jim gave a speech to the community and it seemed to grab most people's attention. It was especially fun to watch the schoolchildren, some as young as 4 or 5, in their bare feet walking or running with us chanting "meno ni ya tembo" or "Ivory belongs to elephants;" which is the name of Jim's campaign.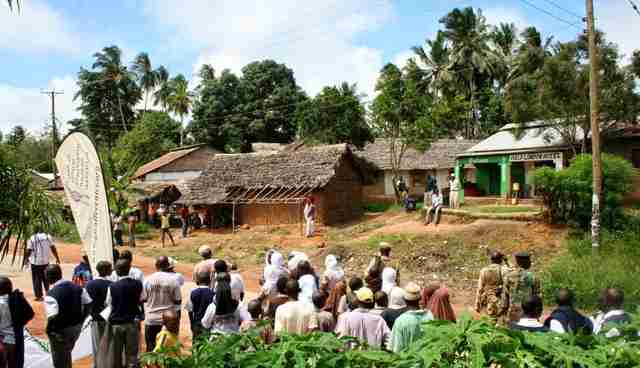 After walking (and partly driving) for three hours we reached the main road to Ukunda (large local town) where we grew in number and marched on to the center. This time the rain came down hard, but we whipped out the rain gear (if we had it) and soldiered on; nothing was going to bring our spirits down.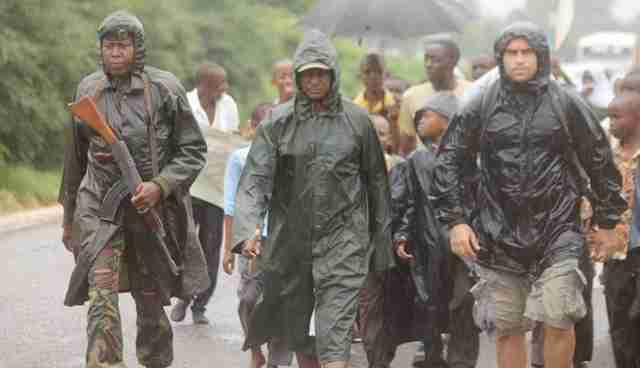 Credit to Jim and his media team for this photo After walking for the better part of an hour we reached the main town center with cars and motorbikes hooting and carried on to the WWF Kenya office. There we were welcomed by a short play from a local theatre school about the penalties of poaching elephants, some closing speeches and a round of applause. This concluded the main part of the day so Jim, his team and we took shelter in the office and I got to find out more about the man behind the walks.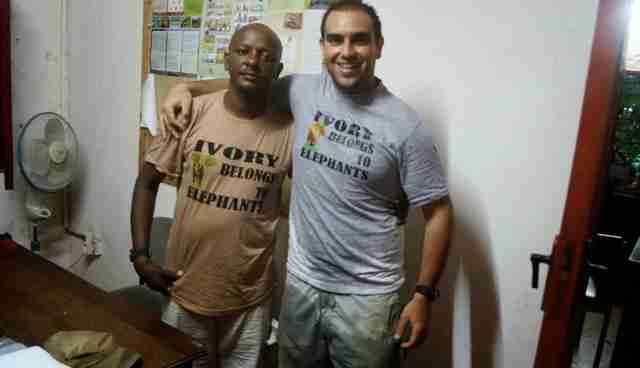 Q. What got you interested in starting this movement to save elephants?
A."I have worked with elephants for over 17 years, first working as a research scientist with the KWS and then heading up the elephant programs with the African Conservation Center. I decided to resign in 2011 to dedicate myself to walking and raising awareness of the plight of elephants."
I only realized after hearing Jim speak that we could loose elephants in Kenya in as little as ten years. One elephant is killed around the world every 15 minutes.
Q. What are your aims for this walk?
A. "I have three main aims I wish to achieve: 1. Raise awareness of the effects of elephant poaching not only on elephants, but the wider environment like the effect to the habitats. 2. Raise awareness of the new wildlife act in Kenya which means if you are found with ivory on your property, regardless as to how it got there, you face life imprisonment or 20 million Ksh. 3. To engage the local communities and schools in the importance of conservation for the future."
Q. How do you feel today has gone in terms of achieving those aims?
A. "I am very impressed with how today has gone and feel it is the best start to any walk I have ever done. When I started walking in 2011 I only had a handful of people with me, today I believe I have interacted with over 1,000 people, 17 schools joined us and hundreds walked. The children's reactions and enjoyment was obvious and very delightful to see. People already believe in protecting and saving the elephants for our future."
Q. Dare I ask what is next once this walk is finished?
A. "Another walk of course. Next month I am walking in Kenya from Nanyuki to Nyahururu, a distance of 201km. Then in July I am going back to the USA to do an 800 mile walk across California. I have chosen America as I feel they need to know about the plight of the elephants in Kenya and to correct current misconceptions. For example, did you know a lot of people believe you can harvest elephant tusks like deer antlers, where they simply fall off at the end of a season? People just don't realize you have to kill the elephant to get the tusks. Also, I am planning to come to London, England later in the year to do my first walk there; I hope to see you."
With that I left knowing Jim will be out again tomorrow and the next day and the next simply walking and talking about why we must protect elephants, not simply because we enjoy looking at them, but as the most powerful species on this planet we have a responsibility to look after the rest. Without nature we are nothing.
Credit to Jim and his media team for this photo Follow Jim's work:
W: http://www.elephantneighborscenter.org
F: https://www.facebook.com/ElephantNeighborsCenter T: @elephantneigbor E: info@elephantneighborscenter.org --------------------------------------------------------------------------- You can see all my photos of my time in Kenya on my Flickr page here -http://bit.ly/1dpb3gd Or on my facebook page here - www.facebook.com/diaryofaprimatologist
Disclaimer:
"The views and opinions expressed in the Diary of a Primatologist blog (except guest posts) are purely my own and are not in any way linked to any organisations I may represent or work with unless otherwise stated. All photos are my own unless otherwise stated and a source will be provided where other photos are used. If they are your photos and you would like them removed please just ask. The author retains full copyright for all content and photos and written permission is required before their use. The owner of the site is not liable for any content accessed through links posted." - See more at: http://lukemberman.blogspot.co.uk/2014/05/walking...