Young Woman's Art Is Saving Dogs' Lives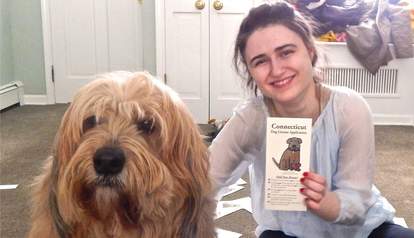 <p> Annie Blumenfeld </p>
In March 2012, a big furry dog showed up at my door step one afternoon. It looked at me wide-eyed waging its tail. All that I could think of was how the internet is a wonderful place to connect me with such an adorable thing.
(Wind back time a couple of months, beforehand.)
One day after coming home from soccer tournament, my mom told me that she wanted to get a new dog. I was ecstatic. In sixth grade, Duncan, my beloved Polish lowland sheepdog died of cancer. I was devastated for many months. As I recalled my memory of Duncan, my mom came over and showed me a picture on her computer of this dog. He had short stumpy legs, a long gawky tail and huge nose. He was also quite scruffy. "Mom where did you find this dog from!" I remember asking. "Well," she said, I always wanted a big shaggy like dog so I decided to Google 'shaggy dog rescue' and he came up."
However, it wasn't a simple love story at first. Although Teddy looked dazzling when he arrived to our home, back in Texas he had heartworm disease, a disease that is caused from an infected mosquito, which produces larva that grows in the dog's heart, lungs, and surrounding blood vessels. Teddy was in a cage for more than a month being treated. (For more information on heartworm disease please visit the American Heartworm Society.)
After hearing more about his story, as this bundle of love sat at my feet wagging his tail, I went online to research more about this. Being 14 at the time, I had heard of issues in the animal-welfare world ranging from "adopt don't shop" to animal testing, but I never had heard of heartworm. I learned from Teddy's amazing rescuer, Kathy Wetmore of Shaggy Dog Rescue, that the heartworm disease rages among shelters in Texas. I discovered that animals who have heartworm are put at the top of high-kill shelters list, due to the cost of the treatment (ranging from about $600 for a small dog to $2,000 for a larger dog) and the amount of time it takes to treat these animals (anywhere from a month to four months depending on the severity).
Cue in on a few days after Teddy's rescue: a sheepdog painting I did was selected to be featured in a local art show. As I walked into the display room, there were a few people surrounding my painting standing there for some time. One nice lady approached me and asked if I was the artist. She told me that she wanted to buy the painting and then her friend asked if I painted other dogs. In the car ride home with doughnuts and coffee in toe, Wags 4 Hope was formed.
My organization works to support shelter animals medical needs' and spreads heartworm awareness. I sell custom dog and cat portraits and give all of the proceeds to shelters and rescues. I speak out about heartworm through magazines, on the radio, and whenever really I see a dog in the street, it is my passion. Now, Dodo followers, here is where I need your help! For more than a year I worked with the Agriculture Department of Connecticut sharing my story and advocating for a change in the Dog License. I wanted a heartworm disease educational message to be featured on it. I believed this would be such an incredible channel to bring awareness to pet owners across the state. I lobbied at my state capitol in March. Unfortunately, the bill did not pass at first. I kept my hopes high patiently waiting to hear back from the Agriculture Department if they were to ever change their minds ... and they did! The CT Dog License now includes a heartworm message, and I was asked to draw a mixed breed to be featured on the license.The Agriculture Department ordered 100,000 copies. These are available in vet offices, town halls, and online statewide. This is by far one of my greatest accomplishments while doing Wags 4 Hope. I really want to see if this can be done in other states. If it means educating one pet owner it can mean saving a life! If you are apart of an animal advocacy group, or if you can write a letter to your State Representative after hearing about this idea, imagine how many dogs can be saved from having this disease.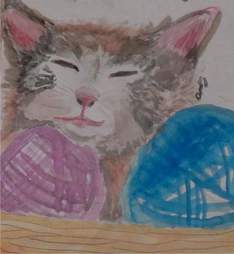 Photo: Annie Blumenfeld
Photo: Annie Blumenfeld
Photo: Annie Blumenfeld