Take a long look at this photo because this is one of the last remaining wild elephants in Vietnam:
This 4-year-old male was recently rescued by Animals Asia after he was caught in a hunter's wire trap, says Joost Philippa, the organization's senior veterinarian. The gash in the elephant's leg was so severe that his toenails and bone had fallen off. He also had a hole in his trunk.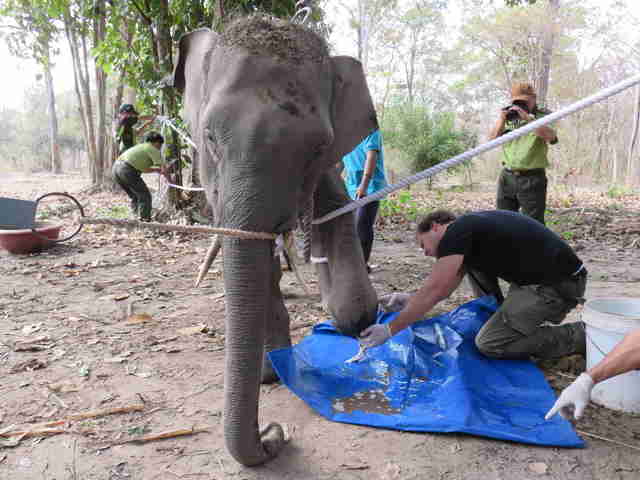 Philippa told The Dodo that when the elephant was found, there was no sign of his mother or his wild herd nearby. He had attached himself to a captive herd in the Dak Lak province of Vietnam, where a small wild population and a captive elephant group both live.

"He joined the captive herd in desperation," says Philippa, and the keepers noticed there was something wrong with the young elephant's foot.
Animals Asia was alerted to the youngster's tenuous condition by veterinarians at Vietnam's Dak Lak Elephant Conservation Centre, which was set up by the government as an elephant hospital and breeding facility.
"The vets sent picture of the wounds ... it was clear that it was necessary to help this young bull and that sedation was required to properly clean and disinfect the foot and remove dead tissue," Philippa says.
He flew to the Dak Lak area and treated the animal in the forest and returned him to the conservation center for observation. "The vets at the elephant center keep me and several other vets who specialize in elephants around the world updated with videos and pictures, and we discuss the best treatment options," says Philippa. Collectively, they will assess whether he will be able to eventually return to the wild.
He is being called "The Little Elephant," named after a childhood song in Vietnam.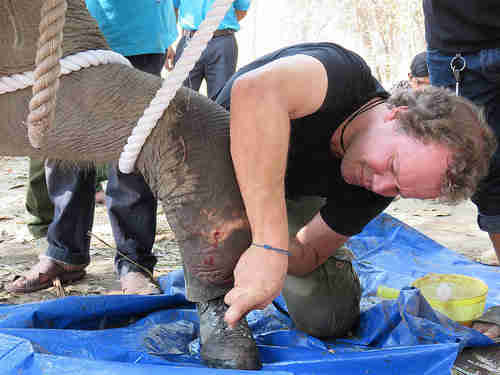 Sadly, Vietnam has done an atrocious job of protecting its wild elephants. There are perhaps 60 left in the entire country, and many conservationists believe that the population will meet the same fate as a subspecies of the Javan black rhino, which officially went extinct in Vietnam in 2011.
There were an estimated 550 wild elephants in Vietnam in the 1980s.
The march toward extinction is happening at an astounding rate, and every loss of an individual is agonizing. Just last week, Vietnamese media reported that two wild baby elephants were found dead in two separate provinces. One was found dead in a pond. The other elephant was found dead in a forest, missing a large swatch of skin, part of his tail and his feet. You can see the graphic and very disturbing image here.
It's not uncommon for adult elephants to be targeted for their ivory and tail parts, explains Douglas Hendrie, technical adviser for Vietnam's NGO Education for Nature (ENV) and head of its Wildlife Crime and Investigations team. However, Hendrie told The Dodo this is the first time he has heard of a baby elephant getting his feet butchered. His organization, he says, is investigating the baby elephant's death.
Besides a small number of wild elephants in Vietnam, there are also an estimated 40 captive elephants, who are mostly used in tourism and treated abysmally. Just this month, an elephant reportedly dropped dead from being overworked while giving rides to tourists. Another captive, tourism-based elephant died in January - also from a cocktail of exhaustion and starvation.
Hendrie says saving Vietnam's wild elephants rests on the shoulders of the nation's Forest Protection Department. "But, given the decline of many species native to parks and protected areas in Vietnam, the problems that elephants face are not endemic to elephants alone," he says. "Rhinos are gone. Tigers down to a few animals, at best."
Human encroachment, habitat destruction, human-elephant conflict and poaching for ivory and skin are widely considered the culprits for the elephants' demise in Vietnam. And even if monumental efforts are made to protect the few remaining animals, the future looks grim.
"The wild population is listed by IUCN as critically endangered, notes Philippa. "[It] is likely too small and fragmented to be sustainable."