Monkey Cares For Orphaned Kittens In Inspiring Display Of Motherly Love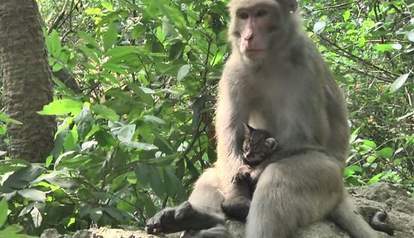 <p> <a href="https://www.youtube.com/watch?v=vrV4gMFu8TM&feature=youtu.be">YouTube/</a><a href="https://www.youtube.com/watch?v=vrV4gMFu8TM&feature=youtu.be">護貓謎猴</a><span></span> </p>
When it comes to babies in need, animals prove that love really is blind. A video uploaded to YouTube earlier this month shows a macaque monkey caring for tiny stray kittens as though they were her own, the Taipei Times reports.
Positi, a female macaque monkey, lives in Shoushan National Nature Park in Taiwan.
Visitors to the park who are familiar with the macaque population caught amazing footage of her treating the kittens just like they're her own babies - even grooming them as she would a baby monkey.
Positi isn't the only animal mom to adopt a baby of a different species. And, sadly, it's possible that she lost her own babies. Or maybe she just recognized that the little kittens needed a mom.
Either way, she's doing a great job caring for them.
Watch the whole video here: