Victory: Idaho Abandons Wolf-Killing Plan This Year After Conservationists Intervene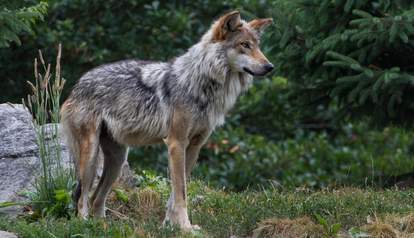 Thanks to legal intervention from conservationist group Earthjustice advocating for the return of an untampered ecosystem in the northern Rocky Mountain, officials in Idaho have abandoned plans to shoot, poison and trap hundreds of once-endangered gray wolves in the region.
These iconic predators had been driven to extinction throughout the U.S. since early last century, but have begun to flourish again after being reintroduced to their native habitat in the 1990s. But the wolves' recovery hasn't come as welcome news for everyone.
With a population deemed sufficient to have them be delisted as an endangered species, Idaho game hunters now have called on wildlife authorities to systematically kill them again, mostly because the animals are eating many of the elk that they would rather have the chance to shoot for sport.
Last year, the Idaho Department of Fish and Game IDFG waged war on wolves, announcing plans to cull 60 percent of the wolves to reduce their numbers from about 600 to a mere 150. A professional hunter was hired who, over the winter, killed nine wolves.
The hunt was set to take place again this year, but conservationists from the group Earthjustice filed a suit to stop it. But before the case could go before a federal appeals court, the IDGF canceled the planned wolf hunt.
"We're glad Idaho's wolves are rightly getting a reprieve from the state's ill-conceived predator-killing plan, at least for a year," says Amy Atwood, an attorney with the Center for Biological Diversity.
Conservationists are hailing it as a victory, though until the state reverses its policy of waging war on wolves, the issue is likely far from resolved.