Vegans Disrupt Mass at Cathedral
Nice, France -- ''Animals have children! Just like us! Animals have a mother! Just like us! Animals deserve to live in peace! Just like us!" These were the human cries that resounded throughout Place Rossetti, a popular square in Nice, France, yesterday.
International animal protection organization Friends of Animals joined local French orgs Sans Voix PACA, GALA, ILA PACA and The Collectif Animalier du 06 to conduct a theatrical event yesterday in front of the Cathédrale Sainte-Réparate during mass to denounce the killing of animals for food. Surrounded by restaurants serving meat and in front of the cathedral, 42 activists rigged a giant speaker to broadcast bone-chilling screams of animals being slaughtered, interrupting the Sunday mass, infuriating the priest, church-goers and the chief of police who was in attendance.
"How dare you do this in front of a church?" yelled a woman coming out of the cathedral. "What about 'Thou shalt not kill?" an activist answered, "We're saying exactly what the Pope is saying! Be kind to all creation!"
As shoppers and church goers walked through the square, they were greeted by veganactivists handing out flyers on how to adopt a healthy, non-violent diet. As the church bells rang, activists chanted "Thou shalt not kill."
Other activists stood in formation, wearing chrome masks and held tablets showing scenes from a recent undercover investigation by French animal rights organization l214, in which "food" animals are being brutalized and killed. At certain times during the two and a half hour event they called a Rally For Food Without Violence, they chanted in unison, "It's not food! It's violence!"
"The vegan diet is the only ethical diet, good for health and for the planet," said Cédric Paquet, president of GALA. "Let these violent habits and traditions disappear to where they belong-in the pages of history."
Restaurant employees stood outside shaking their heads, arms crossed. Several restaurant owners asked the police to disperse the crowd. Tables remained mostly empty-one woman was observed in an outdoor café, pushing her plate of ham omelet aside as she winced, hearing the blood-curdling screams of a pig being slaughtered.
A burly young man exiting the church after mass attacked an animal rights activist. He was quickly subdued by security guards and police officers on the scene.
In order to fight climate change, the United Nations has declared 2016 the International Year of Pulses. The Food and Agriculture Organization of the United Nations has been nominated to facilitate the implementation of the Year in collaboration with Governments, relevant organizations, non-governmental organizations and all other relevant stakeholders.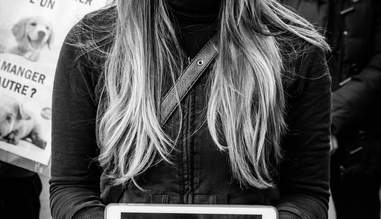 Activists showed underscore footage from a slaughterhouse in Vigan, France, that was certified "humane."

| Photo Credit: Megan Martins
The IYP 2016 aims to heighten public awareness of the nutritional benefits of pulses as part of sustainable food production aimed towards food security and nutrition. The Year will create a unique opportunity to encourage connections throughout the food chain that would better utilize pulse-based proteins, further global production of pulses and better utilize crop rotations. Pulses are rich in nutrients, have exceptional health benefits, are economically affordable and contribute to food security and sustainability world-wide as well as help fight climate change. It is time for a global shift towards a diet that benefits all and harms none.
"Habit and tradition are no longer valid excuses for the unacceptable suffering of animals destined for the plate. Each year, over 60 billion animals (not counting marine animals) are incarcerated, tortured and killed. The oceans are in grave danger...everyone knows it and few are reacting. The UN claims that 7 out of 10 marine species are in the process of being wiped out from over-fishing. It is our moral duty to act. In the future, animal flesh will be labeled like cigarettes are today and those who eat meat will be viewed upon like smokers. For those who say it is a personal choice, given the intolerable cruelty of animal farming and the ease and affordability with which one can nourish one's family on a plant-based diet, eating meat has become the choice of the selfish." ~ Carole Davis, Director of Campaigns Europe, Friends of Animals