A Very Moon Bear Valentine's Day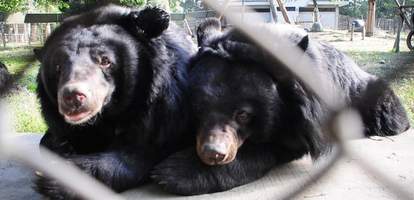 Happy #Valentine's Day everyone!
Valentine's Day is just around the corner, and it seems that Cupid has been popping up at our Vietnam and China bear sanctuaries if this super cute moon bear couple is anything to go by.
These two gorgeous bears spent an afternoon whispering sweet nothings in each other's ears – moon bear style!
To date, Animals Asia has rescued 500 bears from lives of torture on farms in China and Vietnam, providing them the chance to live out their days in the peace of our bear sanctuaries.The bile is collected by means of various extraction, all of which cause massive infections in the bears. Most farmed bears are starved, dehydrated and suffering from multiple diseases and malignant tumours that not only contaminate their bile but ultimately kill them. It's a far cry from the bears' former lives on China's bear bile farms. More than 10,000 moon bears are believed to remain on such farms suffering regular bile extraction as the liquid produced in their gall bladder is prized in traditional medicine.
Now all that's left is to follow this bear's lead and blow a raspberry in your loved one's ear this #Valentine'sDay!