USDA Inspectors Admit To Poop, Hair, Toenails In Factory Pork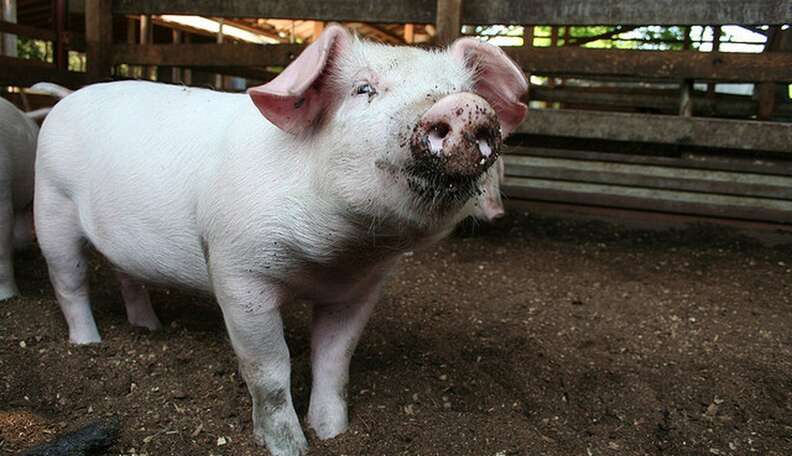 <p> <strong></strong><a class="checked-link" href="http://www.flickr.com/photos/bertconcepts/3278079303/in/photolist-5ZF1LF-a2jGkQ-6p8fg9-BNcKW-3jeTLt-jYse-xWEJM-5n6hjR-DRn2H-5ypmXu-k3MXQZ-apf8VN-6iCp7D-ndrgn-7FEQHe-dpr1Zq-5dzMBA-jJnC2f-9z64C-beYFCV-iuL9V-p8gvG-fn9Jc-5PxRC-a1PjXQ-hX6Mq-A2Y5e-8YNGPu-9k3oHh-kzUF6r-nd3QA-apcofM-2QX4Y-fDNtzY-3wCZdT-8hKSN5-8qpQcU-pJGv1f-dNzgCQ-5B8mLe-4GPSJ-doEAuQ-fDvZYM-6sSeKt-iWv2gT-5NnqLj-34Ftkz-beYFEg-4ppX6h-31g2Wc">Flickr/bertconcepts</a><span></span> </p>
Add this to the lengthy list of problems created by America's factory farming complex: poop, hair and toenails on your plate.
Over the past few years, the U.S. Department of Agriculture (USDA) has been trying out a new, faster way of inspecting the slaughter of hogs, known as the The Hazard Analysis and Critical Control Pont Inspection Models Project (HIMP) . In the five plants currently using the HIMP pilot system, line speeds are faster and fewer USDA inspectors are needed to get the job done. And now, the USDA is looking to expand HIMP to even more factories.
Disgusting new details tell us just how poorly the faster method has worked so far. On Wednesday, the Government Accountability Project, a whistleblower advocacy organization, released affidavits from three unnamed USDA inspectors currently employed at HIMP plants, as well as one retired inspector named Joe Ferguson. These documents present startling details around the high-speed system, including horrific contamination in meat products and a lack of training and ability on the part of inspectors to identify bad meat.
The jarring affidavit from Ferguson, who retired last year after 23 years as a meat inspector, noted that at one plant 1,300 hogs were slaughtered per hour, compared to 1,100 per hour before the program was implemented. The result? Inspectors aren't stopping to remove defects - meaning meat contaminated with hair, toenails and bile is likely getting shipped out to consumers. "It's just nuts," he added.
Here are more jaw-dropping lines - straight from the mouths of the people who inspect America's meat:
So what can you do to help stop the expansion of HIMP? You can start by signing the Food Integrity Campaign's petition asking Hormel Foods - a pork producer that owns three of the five plants currently using HIMP - to stop participating in the program. And be sure to read the affidavits in detail, which can be found here.