BREAKING: U.S. Government Removes All Animal Welfare Info From Its Site
This is f*cked up.
It just became nearly impossible to know what's happening to animals in zoos, puppy mills and research laboratories.
Information about the roughly 9,000 facilities related to animals protected under the Animal Welfare Act (AWA) and inspected by the U.S. Department of Agriculture (USDA) - including SeaWorld, dog breeders and puppy mills, zoos, circuses (including Ringling Bros.) and taxpayer-funded animal testing labs, among others - was removed from the USDA website on Friday.
According to Justin Goodman, vice president of the White Coat Waste Project (WCWP) - a group working to stop taxpayer-funded animal experiments - there were two types of documents on the USDA site:
1) Annual Reports: These previously showed the self-reported number of AWA-regulated animals used over the course of a year at each facility. Here's a screenshot taken earlier this week:
2) Inspection reports: These are reports are filed by USDA inspectors following visits to regulated facilities. This screenshot was also taken earlier this week: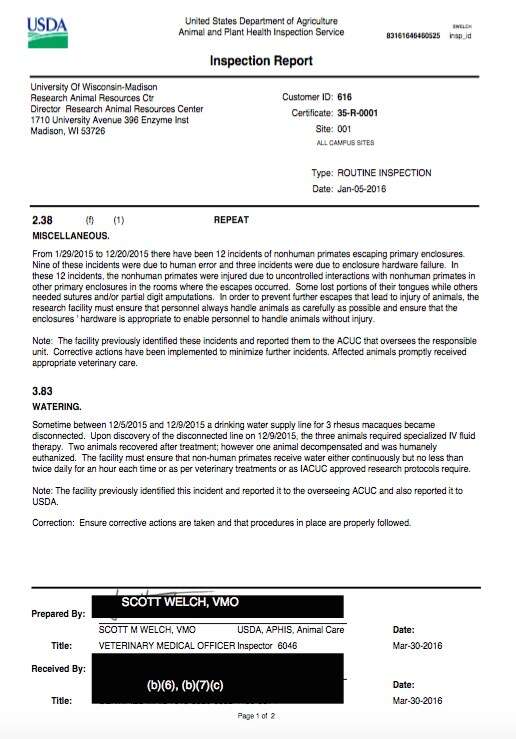 The removal of the information comes a day after a bipartisan bill - known as the Federal Accountability in Chemical Testing (FACT) Act (HR 816), which would require labs to disclose how many animals they are using for testing- was introduced by Rep. Ken Calvert (R-Calif.). The timing of the events sounded alarms for Goodman.
"We were already concerned about a severe lack of transparency about animal experiments that are conducted and funded by the government, as were a growing bipartisan group of Congress members," Goodman said. "So it's particularly alarming that the day after ... the bill was introduced, the government decided to disappear the minimal information that was already available. It's possible that it's a coincidence, of course, but it doesn't make any less alarming."
Of the 9,000 facilities that involve animals protected by the AWA, roughly 1,200 are labs, many of which use taxpayer money to run their experiments.
Both Republicans and Democrats supporting the bill think that anything that could help cut down on wasted money and wasted animal lives would be a no-brainer. So sharing information about how many animals are used for scientific testing each year - a number that's been hard to track across the U.S., but could be as high as 100 million - could help make this possible.
Goodman says this is a concern for more than just lab regulation transparency.
"This covers every single breeder, circus, zoo, animal transporter across the country," Goodman said. "Every entity regulated under the Animal Welfare Act that the USDA published information about in terms of compliance and animal use - all of that information is now gone. SeaWorld, for instance, Ringling - all of that is gone."
This is what the USDA page concerning the AWA looks like now:
"All information was removed today. This includes inspection reports for breeders, exhibitors and research facilities," Tanya Espinosa, public affairs specialist for legislative and public affairs at USDA-APHIS, told The Dodo.
Espinosa denied the claim that the removal of the information was related to the FACT Act. When asked why the information was removed and who ordered its removal, Espinosa said all the information she has at this time can be found here.
Goodman said WCWP is currently trying to get to the bottom of the motivation behind this move.
"This information should be openly accessible to the public, since it is taxpayer dollars that support the implementation and enforcement of laws like the Animal Welfare Act," Kate Dylewsky, a program associate with Born Free USA, told The Dodo in a statement. "The public has a right to know what the government is doing, and this is a blow to both government transparency and to animal advocates' ability to hold animal abusers publicly accountable."
To take action against this lack of transparency, you can file a request for information through the Freedom of Information Act (FOIA).
The Dodo will update this piece as information becomes available.
Update 2/17/17: Some archives have started to become available on the USDA site. Many are still missing, but advocates are seeing the restoration of some of the archives as a big win. "This is a major victory for animals, taxpayers, and democracy," Goodman told The Dodo on Friday. "Americans have a right to know what's done to animals in taxpayer-funded laboratories and we will continue to fight for increased transparency and accountability about these facilities."