USA Primates Can Now Retire from Cruelty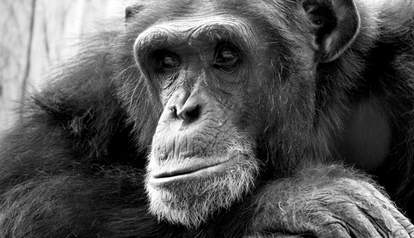 <p><a href="https://www.flickr.com/photos/lanier67/" title="Ir a la galería de Raul Lieberwirth">Raul Lieberwirth</a> (CC BY-NC-ND 2.0)</p>
It is good news for animal rights activists and primate lovers. The National Institutes of Health have announced they will finally give up experimenting with big apes in labs. The last 50 chimpanzees that were being used in scientific studies and clinical experiments will thus be released and sent to natural reserves.
On an official note published last 18th November, NIH's director, Francis Collins, explained that the decision of stopping completely the experimentation with chimps is a result of two years working on an in-depth revision on several medical procedures that used the species. It has also been influenced by the international scientific goal of reducing as much as possible the use of big apes in labs.
On June 2015, the US Fish and Wildlife Service (FWS) tagged the chimpanzees as an endangered species –something that forces now all investigators and scientists to request special permission to use chimps in any study or experiment that can be risky or harmful in any way to the species.
Collins insists that investigation with non-human primates has been and "still is vital to help us understand and improve human health". However, the ethical approaches are questioned by more and more people every time.
The issue gets even more polemic when stories like Foxie's reach the media. Foxie was a chimpanzee that had to be rescued from a lab. They experimented on her with hepatitis vaccines. Not only was her health affected, but also her mental stability –for she was also forced to breed babies that were taken away from her. With the help of wildlife keepers, loads of patience, and dozens of dolls that make her feel like a mom again, Foxie is rehabbing from her past as a lab primate.
In the last two years all procedures that used these species have been carefully reviewed, and a strong conclusion has been reached: all of them can be carried out in alternative ways –or using other species (a "solution" that would keep the polemic on).
Famous ecologist and primatologist Jane Goodall, who has been fighting for animal rights (and especially for primates rights) for over 50 years, believes this is a big step for the US. "I've been working on this since 1987, and it's finally happening. It's come about in stages, and this is the final one, where the last 50 chimpanzees that were in the hands of scientists have been freed".
There is still an awful lot to do, though, for many other species are also being used in biomedical labs, such as rats, rabbits, macaques, and other monkeys. As NIH's chimps will soon be relocated to animal sanctuaries and reserves, we must keep on taking action and lending our voice to the voiceless. As Arthur Schopenhauer said, "the assumption that animals are without rights and the illusion that our treatment of them has no moral significance is a positively outrageous example of Western crudity and barbarity. Universal compassion is the only guarantee of morality".