UPC Needs Your Support This Holiday Season
Why Support United Poultry Concerns?

This November, the Paws for the Cause spotlight shines on United Poultry Concerns. This one of a kind organization focuses on improving the understanding of and quality of life for chickens, turkeys, ducks, and other domestic fowl. UPC has been at the forefront of advocacy, promoting education about these birds since its founding in 1990 by Karen Davis. With an eye toward expanding an ethic of compassion toward these highly sensitive and frequently abused birds, UPC's cutting edge work recognizes the deep connections between vulnerable birds and human health, environmental concerns, and other issues. UPC's work reflects constant dedication. – Paws for the Cause. November 23, 2015
Dear UPC, thank you so much for all your efforts. You are making a difference in the lives of many chickens, turkeys and other animals. Perhaps one day, people will realize that veganism is the only sane and humane choice. – Dr. Robert S. E. Caine, PhD, November 11, 2015 Holiday Greetings from United Poultry Concerns, From Our Hearts to Yours


Gabby & Felix, August 27, 2015; Gabby, October 28, 2015. Photos by Karen Davis.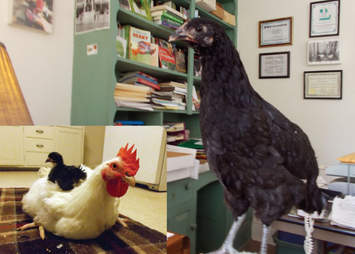 Dear Friend,

2016 marks our 26th year of dedicated activism for chickens, turkeys and other domestic fowl. A quarter of a century ago, some well-meaning but mistaken people told me that an organization dedicated to helping "poultry" would never succeed because people "weren't ready." But effective activism is about making people ready, and this is what we have done and will continue doing in the year ahead and beyond, thanks to your support!
In the previous issue of Poultry Press, we introduced you to Gabby and Felix, two chickens who shared their life at our sanctuary. Felix, whose handsome face is featured on our holiday greeting card, fell out of the truck that was taking him to a slaughterhouse here on the Eastern Shore in July. Luckily, a passerby gathered him off the road and brought him to our veterinarian. His smashed wing had to be amputated, but following his surgery he settled into our kitchen and we named him Felix, which means "happy."
A month later, in August, we adopted a baby chick from Maryland named Gabby. She too had been saved by a kind person, and now Felix and Gabby were inseparable companions in our kitchen. Bred for the chicken industry, Felix, though less than two months old the same as Gabby, was many times her size, and while she scampered around him, to his delight – he could barely stand up on his own two legs.
Friday morning, September 4, I rejoiced at how happy Felix and Gabby were with each other. She was nestled on his back and he sat quietly. I walked into my office and started working. Suddenly, a commotion erupted.
Gabby came running in. She had never done that before. Not once had she ever left Felix until this moment. She peeped frantically. I jumped off my chair and followed her. She raced into the kitchen, peeping loudly.
I looked at the quilt where she and Felix were sitting together a few minutes before, and he was not on it. Where was Felix? I turned the corner, and found him lying on the floor, dead. Gabby had witnessed her friend dying of a heart attack. And she had run to tell me that something terrible had just happened to Felix in front of her eyes.
Chickens like Felix are frail and weak despite an appearance of size and strength. The day before he died, I'd placed Felix gently in a little garden outside my window with Gabby beside him in her birdcage. Felix stood up on the ground and even took a few steps, and he plucked and ate a lot of grass, all the while making those happy sounds that chickens make, and I thought, "Maybe he's going to be all right after all."
But the next day, Felix was dead and Gabby had lost her friend.
I tell you this story about our dear Felix, in his honor, and in memory of the happiness that he and Gabby shared in our sanctuary. And I wanted to tell you how Gabby, though a little chick who had never before run into my office, knew exactly where to find me when she needed to. She implored me with her loud peeps to follow her into the kitchen and see what a terrible thing had befallen Felix. And she found comfort in my quick response to her cries for help.
So with our eyes always focused on expanding the ethic of compassion toward these sensitive and intelligent birds, we urge you please to help us continue fighting for them. Your generous tax-deductible gift to United Poultry Concerns will enable us to pursue and achieve our goals in 2016.
From all of your feathered friends & staff at United Poultry Concerns, we wish you a happy New Year! Gabby sends her love!

Karen Davis, PhD
President & Founder
United Poultry Concerns United Poultry Concerns is a nonprofit organization. Federal ID: 52-1705678. All donations are tax-deductible. A financial statement is available on written request to the Office of Consumer Affairs, PO Box 1163, Richmond, Virginia 23218. Our 990 tax forms, Annual Reports & Audits are posted on our website at www.upc-online.org. To view these documents, click on About UPC on our homepage at www.upc-online.org/more_about_upc.html. Thank you.