11 Unbelievably Unlikely Animal Friends
<p>via YouTuba (TexasGirly1979)</p>
The internet has been stormed by viral videos and stories of these unthinkable inter-species relationships, often times between predator and prey. With so many of these friendships reported is it really that unimaginable?
1. Sharky the pit bull and friends
(YouTube: TexasGirly1979)
Sharky the pit bull is famous for his inter-species friendships with cats, chickens, rabbits, guinea pigs, geese and can be seen playing with a rooster here.
2. Maunka and Hector
(via Animal Talk)
Maunka the pig lives with Hector the cat. They can be seen snuggling together here.
3. Cat-and-the-rat
(via AFV)
YouTube is full of unlikely cat and rodent friendships, Watch this cat and rat cuddling here. The good old nurture versus nature argument could suggest why some of the above unusual relationships occur, but some unlikely friendships get a little wild.
4. Kate and Pippin
(via Animal Planet)
In 2010, when a baby fawn (Pippin) was abandoned by her mother, Kate the Great Dane quickly came to Pippin's side and they became best friends. The pair was featured on National Geographic "Unlikely Animal Friends."
5. Moses and Cassie
(via National Geographic)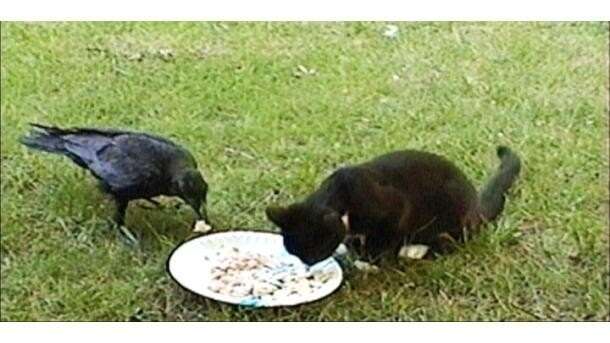 In 1999, when Cassie a stray kitten was spotted by the Collito family, much to their surprise the kitten was being cared for by a crow named Moses. Some of these friendships form after hardships in life; the animals come together to heal.
6. Owen and Mzee
(via National Geographic)
In 2003 a baby hippopotamus, Owen, was rescued after surviving a devastating tsunami. He was brought to an animal sanctuary in Kenya, where he quickly made friends with a rescued tortoise named Mzee.
7. Hemingway and Ryan
(via Farm Sanctuary)
In 2014, a sick baby goat Hemingway was dropped off at Farm Sanctuary where he was nursed back to health. He then made best friends with a rescued goose named Ryan.
8. Lions and antelopes
In 2001 Kenya, it was reported that a female lion had adopted a baby antelope. She had adopted five separate antelopes on different occasions. In 2012 this rare event was seen again when another lion adopted an antelope shortly after killing its mother, reported at Queen Elizabeth National park in Uganda. These examples are the most baffling, because there is no human involvement other then bearing witness to the cuteness.
9. Frogback Riding
(via National Geographic)
In 2006 India, the summer monsoons came early, it appears the mouse has caught a ride with a friend.
10. Goose guard
(via WGRZ)