Stunning Photos Reveal The Secret Lives Of Sea Creatures
<p>Richard Carey/UPY 2016</p>
From the land, the ocean may seem mostly lifeless, but look under the surface and you'll find up to 80 percent of life on Earth. Now, thanks to a recent photography contest, you can catch a stunning glimpse of this hidden world.
This month, the U.K.-based Underwater Photographer of the Year Contest announced its 2016 winners, representing shutterbugs from over 50 different countries.
Three Pillars - Practice, Patience & Luck!Pier Mane/UPY 2016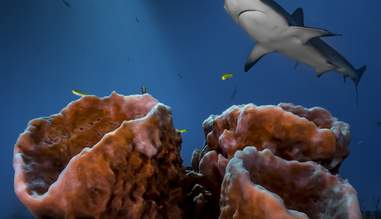 Three Pillars - Practice, Patience & Luck!

| Pier Mane/UPY 2016
While the overall title ended up going to Italian photographer Davide Lopresti for his shot of a spiny seahorse titled "Gold," each of the finalists' photos serves as a surprisingly intimate tribute to the creatures living in our seas.
GoldDavide Lopresti/UPY 2016
Gold

| Davide Lopresti/UPY 2016
"It was astounding and humbling seeing the quality," said contest judge Alex Mustard in a statement. "Every single image that placed is an amazing moment from the underwater world."
Millions of CrabsRui Guerra/UPY 2016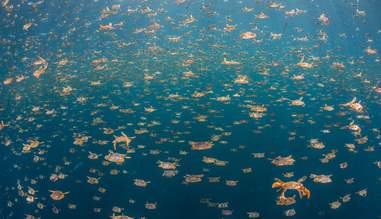 Millions of Crabs

| Rui Guerra/UPY 2016
According to Lopresti, he took his award-winning shot to celebrate seahorses living in now-protected parts of the Mediterranean once ravaged by destructive fishing methods.
The Majestic Purple DamePier Mane
The Majestic Purple Dame

| Pier Mane
"Over the years the Mediterranean's population of seahorses has drastically reduced. Their numbers have only recovered thanks to public awareness and a significant restocking campaign," wrote Lopresti in a statement. "This has allowed vulnerable and delicate creatures, like seahorses, to return."
LagoonGreg Lecoeur/UPY 2016
Lagoon

| Greg Lecoeur/UPY 2016
Check out more of the winning photographs below or click here to learn how you can help protect these magnificent creatures.
Pilot WhalesGreg Lecoeur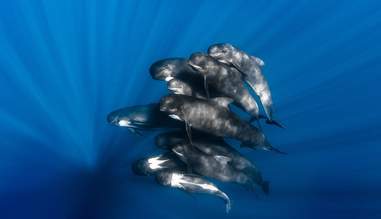 Pilot Whales

| Greg Lecoeur
Planktonic PredatorGeorge Stoyle
Planktonic Predator

| George Stoyle
Hello Give Us a KissSara Bowring
Hello Give Us a Kiss

| Sara Bowring