Undersea Rover Captures Stunning Footage Of A Rare 'Dumbo' Octopus
The ocean's depths are home to some of the most fascinating life forms found anywhere on earth, though few aquatic creatures are as elusive - or, frankly, as cute - as Grimpoteuthis, nicknamed the "Dumbo" octopus.
These octopi, which live up to 13,000 feet beneath the waves, are noted for their large ear-like fins which give them a rather charming resemblance to film's most famous cartoon elephant.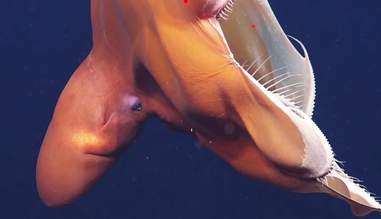 (Nautilus Live)
Earlier this week, while exploring in waters around the Gulf of Mexico with a deep sea rover, Nautilus Live Expedition ran across one of these rare animals, capturing stunning footage of the lucky encounter.
Though the species typically grows only about eight to 12 inches long, the explorers estimated this specimen to measure in at over three feet in diameter - truly a remarkable find.