Undercover Expose Reveals Alleged Abuse Tied To World's Largest Mozzarella Maker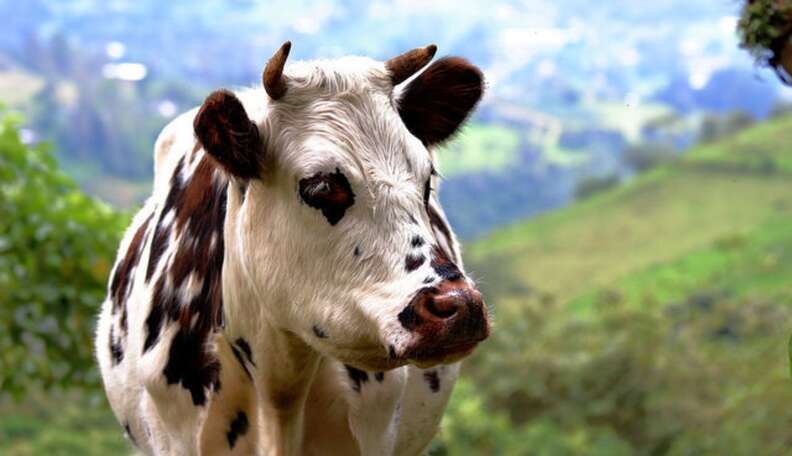 <p>andresmbernal /<a class="checked-link" href="https://www.flickr.com/photos/arctourus/14666619867/in/photolist-dtaWzJ-ntJ3Gz-fd5sF8-Kh5df-fsh25x-aNz5F6-PrxmX-5uB9Yt-7fpNh6-gpQXfR-bLmYfk-om3g7k-bWy1e3-t2a7o-fswn7S-nmnhWd-gqiPg8-dwojvp-bucAUa-oxi45K-oe3kSN-7Z7uEt-oSmyDE-akUVo4-cJYpef-7QZLcN-b6NXN2-fsh3Kz-beYJa4-6zWqe7-cjdKwN-oe3j9Y-dCkey9-dC3G87-ej1EGG-a5RgQe-GwxUe-bFCNKT-auiTJ2-7Q4zW3-6KwoMV-7fM3yo-6mdPGz-6qNVZe-favj36-dCePp6-a1KUQg-9ekcGg-nE4mWr-cKE8rj"> Flickr</a></p>
An undercover investigation has revealed alleged abuse at a New Mexico supplier to Leprino Foods, the largest maker of mozzarella cheese in the world. The video reportedly shows workers at a farm called Winchester Dairy punching, kicking, shocking and whipping dairy cows. It also allegedly shows employees dragging "downer" cows, or animals that are too sick or injured to stand, with a tractor.
Leprino Foods, one of the country's largest dairy suppliers, ships cheese to major chains, including Pizza Hut, Papa John's and Domino's.
The video was conducted by the group Mercy for Animals (MFA) and shot by an employee using a hidden camera. MFA has alerted local law enforcement, and is now calling on Leprino Foods to step up their animal welfare standards and install video cameras in their suppliers' farms. The organization is also encouraging the New Mexico Livestock Board and the Chaves County District Attorney's Office to take action against the supplier.
Dr. Temple Grandin, a renowned animal welfare expert, said in a release that the animals in the video seemed in "severe distress" and the acts against them were "definitely abusive."
New Mexico is not a state with ag-gag legislation, or laws that ban whistleblowers and journalists from videotaping or exposing animal cruelty in factory farms and slaughterhouses (New Mexico's proposed legislation failed in 2013). Several states have ag-gag bills in place or pending legislation that would make investigations like this impossible.
See the video below. You can sign a petition aimed at Leprino Food here.
WARNING: Video contains disturbing images.
UPDATE 10/18 - Leprino Foods issued a statement to The Dodo about the video above, saying that the company has terminated all shipments from the farm where the footage was taken. The statement reads:
We take these situations extremely seriously and are extremely repulsed by these events. The actions depicted in the video are appalling and unacceptable. Leprino Foods Company prides itself in providing an uncompromising commitment to high-quality real cheese, and the milk must be supplied to us by farmers who share our commitment to the highest level of animal health and wellness. This isolated incident does not reflect the daily care and comfort that New Mexico dairy farmers provide their cows. The farm has taken quick and decisive action. Information about the incident was immediately shared by the farm owner with the proper New Mexico authorities, who are conducting an investigation so that the individuals responsible can be held accountable for their actions.
UPDATE 10/23 - AP reports that the dairy has fired all its employees and referred the abusive workers to law enforcement for further investigation.