Nations Tackle Warming Planet As Animals Teeter On The Brink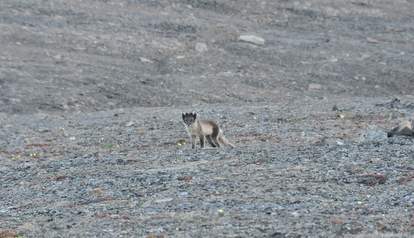 <p><a class="checked-link" href="https://www.flickr.com/photos/euphro/14311468951/sizes/m/" style="text-decoration: none;">euphro/Flickr</a>/CC BY 2.0</p>
The fallout from a hotter planet will claim more than polar ice and a few feet of coastline. In fact, with each bump in temperature, an increasing number of species face extinction. Polar bears, for example, are marching south and mating with grizzlies. Monarch butterfly populations, thanks to a mixture of drought and devastating snowfall, have dropped by the millions. And they aren't the only casualties of a warmer globe.
The United Nations Climate Change Conference, which takes place over the next two weeks in Lima, Peru, is a meeting of two forces. On the one hand, there's an undercurrent of optimism, spurred on by the U.S. and Chinese governments, which recently announced they would jointly work toward reducing carbon emissions, a main driver of global warming.
And on the other, there's the slow but seemingly inexorable flow of global warming. Keeping the rise of global temperatures below 3.6 degrees Fahrenheit by the end of the century - a target set by world leaders - is likely to fail.
Though an atmosphere that is 3.6 degrees warmer, on average, than preindustrial temperatures may seem like a paltry difference, the effects would be anything but. With such a rise, research predicts the "point at which the world will be locked into a near-term future of drought, food and water shortages, melting ice sheets, shrinking glaciers, rising sea levels and widespread flooding," the New York Times writes.
In her opening address on Monday, Christiana Figueres, the executive secretary of the U.N. climate convention, declared that the world "must write history" now to fight climate change. "2014 is likely to be the hottest year on record and emissions continue to rise. We must act with urgency."
Earlier this year, the Intergovernmental Panel on Climate Change, another U.N. effort, estimated that as fish flee warmer water near the equator, tropical fish stocks will contract by 40 to 60 percent. Amphibians, too, would be hit particularly hard. In early 2014, a study of 36 reptile and amphibian species in the U.S. determined that they would have an overall 28 percent chance of extinction over the next 100 years, compared with a 1 percent chance without global warming.
The goal of the Lima talks are to create an international agreement to avoid this point. To call it difficult would be an understatement, with emissions that would have to peter out to zero by 2100.
Want to make a difference without being a part of the United Nations? No problem: Eat less meat.