After Gunmen Attack, Ukrainian Shelter Courageously Fights For Life Of Dog
<p> Ivan Bandura / <a href="https://www.flickr.com/photos/mac_ivan/8517139488/" target="_blank">Flickr</a> (<a href="https://creativecommons.org/licenses/by/2.0/" target="_blank">CC BY 2.0</a>) </p>
(WARNING: Disturbing content.)
Shot dog recovering. Photo: IFAW
For many months, danger and chaos have been a part of daily life at the Gorlovka animal shelter in Eastern Ukraine. And then one day, things got even worse.
Armed gunmen invaded the shelter and stole any supplies they wanted. They beat all of the shelter workers and fired their weapons at the animals.
None of the shelter workers was badly injured, but a shelter dog named Aisya was wounded by a bullet. Shelter workers did their best to comfort her and calm the other dogs until the gunmen left.
I received the news via email the same day of the attack ... our whole team was horrified. We reached out immediately with words of encouragement and support.
They sent word quickly that there was no loss of life for which we are so very grateful. The Gorlovka shelter director, staff and volunteers are more committed than ever to keep their shelter running strong and overflowing with compassion in these dark days.
They refuse to abandon their mission of helping those less fortunate in Gorlovka and many surrounding areas.
Aisya pulled through emergency surgery and has started her long road to recovery which will hopefully include regaining the use of her right front leg. She will always bear the scars of the horrible attack in her rugged skin but the more difficult wounds to heal are often on the inside, learning to trust humans again after all they have witnessed during this crisis.
IFAW will award an emergency grant today to support the increased demand for veterinary supplies and equipment to help Aisya and so many others who must first start to heal physically before they can begin to heal emotionally.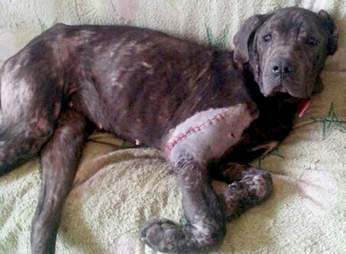 Aisya pulled through emergency surgery and has started her long road to recovery. Photo: IFAW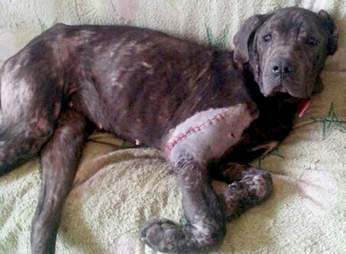 The shelter workers and volunteers will heal alongside these animals, supporting one another as they always have. Emergency funds help to ease their worries of providing all that these animals need, every little bit helps.
I was angry, now I am just proud ... proud of these strong men and women sacrificing so much for the animals of Eastern Ukraine.
As we wish Aisya and the hundreds of other dogs and cats in the Gorlovka shelter a peaceful and healing day today, we cannot forget that our work is not yet done. Thank you all for helping to make this support and so much more possible.
- SW