UK Circus Forces Their Big Cats To Live In Cages 'About As Wide As A Tiger'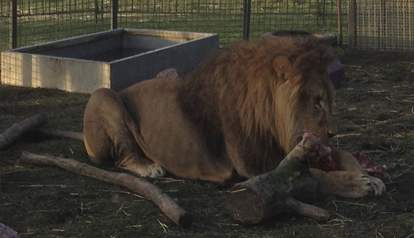 Five big cats - three tigers and two lions - are languishing in tiny cages on a farm in the far northeastern corner of Scotland, bringing new light, and urgency, to the failure of England, Scotland, Wales and Northern Ireland to pass legislation banning the use of wild animals for public display attractions, including circuses. "The big cats are mainly housed in three cages of a traditional circus beast wagon (trailer)," the U.K.-based Born Free Foundation said in a statement. "There is a small circular pen that the animals can access when they are not locked away. The lions and tigers must share this pen and during the investigator's visit there was always at least one big cat locked in the beast wagon."
Born Free investigators found that all five animals were "repetitively pacing" in their small cages, and that the male tigers were engaged in aggressive interactions with each other. The lions and tigers had previously been on tour with Britain's Peter Jolly's Circus. "The Born Free Foundation was alerted to alarming reports that the cats' owner and trainer Thomas Chipperfield had set up a site at a farm in Fraserburgh, Aberdeenshire, and as quickly as possible, dispatched an investigator," the group said. "It appears that the cats do not get a break from circus conditions even when they are not on the road."
Chipperfield could not be reached for comment, but posted this tweet in response to the investigation.
The cages in which the cats are held measure approximately 8 square feet, according to Chris Draper, programs manager for captive wild animals and science at the Born Free Foundation. "They're about as wide as a fully grown tiger. The animals can turn around, but no more than that," Draper told The Dodo. The common pen in which the animals are sometimes kept is about the length of a tractor-trailer, and a bit wider, he added. "These animals have gone from a circus in the Republic of Ireland, to a private site in Northern Ireland, to being on tour with another circus in England and Wales, to this site in Scotland," Draper said. "At no stage has there been any way of preventing this in law."
"The situation these animals are in is a direct result of long-term inaction on the part of the national Governments within the U.K. and Ireland: most notably the Government in Westminster [London], which has an oft-stated commitment to bring in a ban on traveling circuses in England, yet has seemingly done everything in its power not to act," Draper added. Animal welfare advocates have been trying for years to ban the use of wild animals in circuses in the U.K., but the process is complicated and, so far, has been unsuccessful. All four nations within the U.K. (England, Scotland, Wales and Northern Ireland) operate individually on issues of animal law. Only one bill to ban wild animals in circuses has been introduced, in England, though that legislation has made little progress, according to Draper. In Scotland, meanwhile, Draper said animal display facilities simply need to be registered with the government - there are no inspections or other means of protecting animal welfare.
Earlier this year the Scottish Government held a "consultation" on banning wild animals in circuses, but so far has not commented on the outcome. "It is staggering that the Government has still not fulfilled its promise to ban wild animals in circuses," Adam Roberts, Acting CEO of the Born Free Foundation, said in a statement. "And all the while, wild animals such as these tigers and lions continue to be kept in an unsuitable captive environment. We are calling on the Government to make good on their promise and take action now to end this outdated practice." Draper said his group and the Royal Society for the Prevention of Cruelty to Animals (RSPCA) had offered to help circus operators who want to retire their animals. "Born Free and the RSPCA recently tried to reiterate that to Thomas Chipperfield, we made that offer to him a couple of years ago, but he said 'no thank you' and we haven't heard back." For now, the big cats remain locked up on a Scottish farm. "At the end of day, we want a ban on wild animals in circus, full stop, so this can't happen again," Draper said. "The U.K. is rapidly losing its status as a world-leader on animal welfare issues."