Two Sisters With A Lot Of Heart For Orcas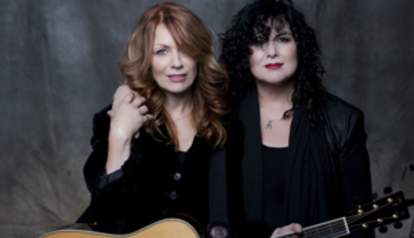 In December 2013, Seattle rockers Nancy and Ann Wilson of the band Heart, cancelled their concert at Sea World as a result of watching "Blackfish." After hearing from fans and considering the implications of a decision to cancel, Heart tweeted: "Heart has chosen to decline their forthcoming performance at SeaWorld on 2/9/14 due to the controversial documentary film 'Black Fish'."
A year later, and true to form, Heart continues to be a supporter of Orca welfare. This past November, Nancy and Ann donated an autographed guitar that was raffled as part of the "Lolita's Gift Holiday Auction," a fundraising effort to support the Orca Network and a newly released documentary, "Fragile Waters" from filmmakers Rick Wood and Shari Macy. The film highlights the plight of the endangered Southern Resident Killer Whales and their home waters, the Salish Sea.
The winner of the autographed guitar generously donated it back to the auction organizer so it could be included as part of the "Orca Network Reunion Raffle" which seeks to help fund the Orca Network and traveling expenses for Orca Network founder, Howard Garrett, when he joins the "Miracle March for Lolita" in Miami, Fl. on January 17, 2015. Lolita, who was captured from the Southern Resident Orca population in 1970, has been held captive at the Miami Seaquarium for over forty years.
When Ann and Nancy Wilson of Heart were told that their autographed guitar had been donated back so it could help raise more funds for the "Orca Network Reunion Raffle," they were so touched by the generosity that they donated more items for the raffle, to be bundled with the guitar as the "Heart for Lolita" package.
Along with the guitar they added an autographed copy of their book, "Kicking and Dreaming," an autographed photo of Ann and Nancy, and two passes to see Heart in concert. Heart has also posted a link to the online raffle on their Facebook page.
When asked how she came by her appreciation for orca's, Nancy Wilson said, "I got to know a family of orcas first hand when I hosted a documentary about orca's called Baby Wild. They are magic and beautiful."
Ann and Nancy Wilson made a strong statement when they cancelled their concert at SeaWorld in December 2013. Their continued support of advocacy efforts is testament to their sincerity and heartfelt appreciation for orcas.
Raffle tickets for the "Heart for Lolita" package, and other items, can be found here.