Mercury is a tough two-legged cat who can do anything a four-legged cat can do. The proof is in the puddy-tat: Watch Mercury deal with regular cat problems while being an extra-special feline.
Mercury was found orphaned in September 2013. He was 4 days old and missing both of his front legs and all but one toe on one of his hind paws.
First step: learning to eat.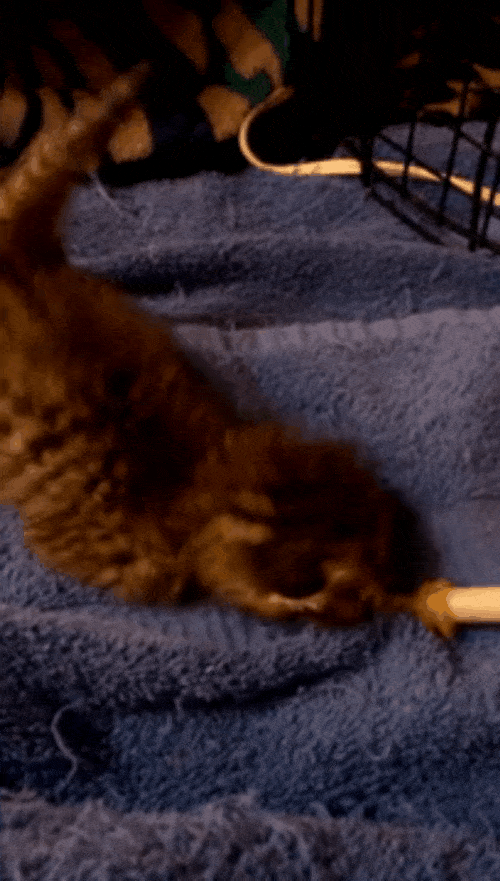 Volunteers at the Community Cat Coalition of Edmond in Oklahoma took him in and raised him until he was adopted on February 15, 2014, by Scott and Sara Bohn, who also foster other abandoned cats. At 2 weeks old (above), Mercury could already push himself around to find his meal. Below, at nearly 1 month old, he's much more practiced.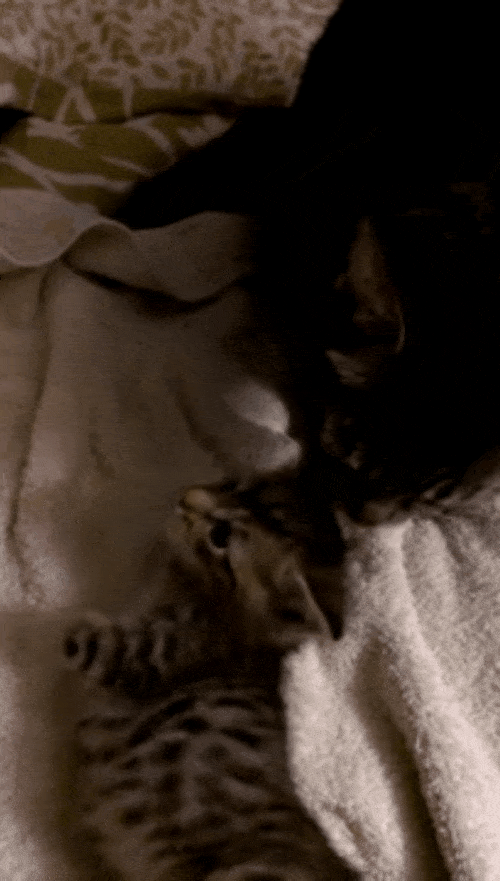 Older friend Nala doesn't mind playing mum to 3-week-old Mercury.
Then he had to learn to walk ...
Mercury was encouraged to be as independent a cat as possible. Here, at just 8 weeks old, he already has the confidence to begin testing out his walking skills.
"Even from the beginning there was something about him, as he had so much spirit and determination," the Bohns told The Dodo. "We get messages from people about how they are going to be open to adopting a special needs animal, messages from people who are raising one and looking for support, and messages from people who are inspired by him to get through days when they are struggling."
Truly a quintessential cat problem: lasers. Mercury tackles this laser pointer with his usual enthusiasm.
Make that play A LOT!
Mercury practices his pouncing skills on this crinkly tunnel.
He's also a master at fighting T-rexes.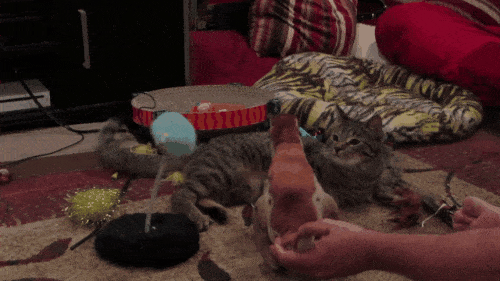 OK, maybe this isn't one of life's biggest struggles, but Mercury makes fighting this stuffed T-Rex look like a crazy-cute fun time. (And he kind of looks like a fuzzy little T-rex himself!)
He even knows how to wrap presents - sort of.
Mercury pitched in with the gift-wrapping in this video from mid-December, showing off his two-legged technique.
The Bohns have been looking into getting him prostheses, but the options available haven't been tried with cats before. "So far we have not found a device that would give him more freedom than he has right now," the Bohns said. "The best option we have seen ... would prevent him from jumping, using a litter box or even sleeping while using it.
"We're always open to the idea of a device, and as Mercury ages it may be something he needs. Right now though, being so restricted in his movement would likely lead to a very sad kitty, as he is still a very young cat and full of energy."
Check out Mercury's Facebook page or YouTube channel for updates on his health, progress and (incredibly cute) shenanigans.