2-Legged Puppy Gets Around Like A Pro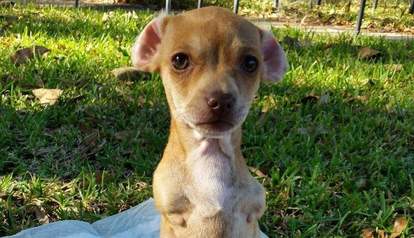 <p><a href="https://www.facebook.com/pages/Scooter-The-Two-Legged-Wonder-Dog/1499580253641190?sk=timeline">Facebook/ScooterTheTwoLeggedWonderDog</a><span></span></p>
Scooter is like any other 10-month-old puppy: He loves to roll around, play with his toys and snuggle with his family - except Scooter does it all on his hind legs.
The spunky little dog was born without his two front legs. His human, Tina Gans, got him from a fellow dog lover who had rescued him from a neighbor in her Texas town, according to local outlet KHOU. The neighbor's dog had just had puppies, and Scooter was the only one born with just two legs.
Gans immediately fell in love with Scooter's powerful personality, and she knew she wanted to do everything she could to help him live his best life.
The little guy was only 2 months old when he wound up in her care, so she knew she had plenty of time to help Scooter adjust to different ways of getting around.
Gans contacted a man who designs prosthetics for two-legged dogs (including his own) and he happily donated a custom set of wheels to Scooter. Now he can jet around like a pro - when he's not busy snuggling with his family, that is.
Scooter has a Facebook page where his family posts updates about him and his progress as he gets more and more comfortable with his wheels.
Scooter's wheels get him lots of extra attention when he goes out, which gave Gans the idea to train him as a therapy dog. The pup's inspiring attitude could help others, and his little mug is sure to bring a smile to everyone's face.
Gans hopes to put ramps around her house so Scooter will be able to easily move between his two favorite spots - the couch and the bed.