Kitten With Just 2 Legs Now Has The Perfect Way To Get Around
Casserole is an 8-month-old kitten who is missing both back legs below the knee.
Members of the Tiny Kittens Society in British Columbia, Canada, rescued him from a feral cat colony last year, and found him with his legs missing. As you can see, he was tiny.
"There's no way he should have survived, but our little fighter refused to give up," the group wrote on Facebook. "After several weeks of round-the-clock care, he was finally out of the woods and ready to start physical therapy."
Twenty-one days after his rescue, Casserole - also known as Cassidy - walked without any assistance for the very first time, thanks to a specially designed wheelchair.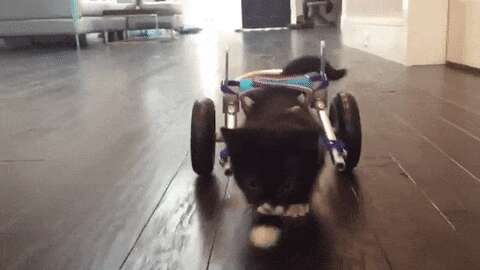 But these days, Cassidy has an even sweeter ride.
"One day, he hopped up on the Roomba and it was pretty much the funniest thing I've ever seen," Shelly Roche, owner of Tiny Kittens Society, told the Huffington Post. "He really just likes looking around while he rolls."
He hops on and off as he pleases ...
... and sometimes pretends he's a shark.
Though Cassidy seems perfectly content with his current mode of transportation, he's on his way to receiving a pair of high-tech "bionic" legs. In a few weeks, he'll travel to North Carolina for prosthetic implants.
Until then, Cassidy will keep riding his Roomba. Watch the full video of him in action here: