Two Cartoonists SeaWorld Isn't Laughing At
Two infographics -- "Who is Shamu?" and "Mothers and Calves" -- have blazed trails across social media and helped galvanize support against SeaWorld's continued use of captive orcas as entertainment. They've become ubiquitous on Facebook and Twitter, and been employed by conservation groups such as The Orca Research Trust, Orca Aware and Whale and Dolphin Conservation. And they were created by two disillusioned former SeaWorld fans.
New Zealand native Lee Harrison (the artist), and Indiana-based James Wolf (the writer-researcher) wanted to create a history of captive cetaceans that was neither complicated nor difficult for the layperson to follow. Wolf said that both of them believed that "a simple visual medium would draw people in and keep them interested." More importantly, he said, such pieces would educate the public while allowing them "to explore the issue for themselves."
The two first met in an online forum in 2006, when neither believed that SeaWorld was all that bad. Harrison had even started research into how to become a SeaWorld trainer until visits to their parks made them feel that beneath the surface, nothing was as it seemed. Traveling in 2007 and 2010, Harrison visited SeaWorld San Diego, SeaWorld Orlando and Marineland in Niagara Falls, Ontario. The latter visit was particularly disconcerting, he said.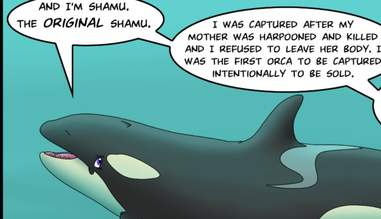 "Taima died days before I arrived in Orlando, and on my first day there, I shot this video of Kalina being attacked by Kayla," Harrison says. Encouraged by Wolf, Harrison eventually gave the footage to Tim Zimmermann, a Dodo contributor and author of an Outside magazine story that inspired the documentary "Blackfish" and examined the role of Tilikum, a captive SeaWorld orca, in the killing of three people.
Zimmermann eventually posted the footage of Kayla's attack to YouTube in Sept. 2010. When Kalina died just several months after Harrison had seen her, it hit the artist hard. The news of her death and existing reservations Harrison said, "completed my transition from supporting SeaWorld, to wanting to do something to stop it."
Wolf could only mirror Harrison's sentiments. The deeper he delved into the issue of cetacean captivity he said, "the harder it became to rationalize it." To him, the movement of animals and the apparent rush to breed them as quickly as possible meant SeaWorld, "was repeating past mistakes that could only be described as careless," he said.
Wolf began to work behind the scenes. He helped to find and research material for Zimmermann, and was interviewed by David Kirby, who cited him in his book, "Death at SeaWorld." When senior SeaWorld trainer Dawn Brancheau was killed by Tilikum in 2010, and the park lost orcas in the same year, Harrison and Wolf felt compelled to act more openly. They took their existing collaboration one step further and began to work together on a series of posters.
"I mostly focus on the drawing and designs," Harrison said. "I try to keep a cartoony-feel to bring people in and to keep it visually appealing." This, he says, allows Wolf to conduct any research necessary to create the equally important dialogue.
"Who is Shamu?" was created "from the desire to show people that many, many orcas have died under the name Shamu and been forgotten," Harrison explained. Wolf added that the Shamu series sums up, "the history and nature of the marine park business so well. It's like a journey down the rabbit hole," he said, "there is always more, and it is always worse."
"Mothers and Calves," meanwhile, was created to address SeaWorld's claim that the park does not separate mothers and babies. "This was such an untruth," explained Harrison, "that I visually wanted to show their denial of the simple facts." Wolf added, "SeaWorld blatantly lying about this issue was just inexcusable. It's like we live in a post-truth world, where if corporate mouths keep on saying something, people will believe it's true."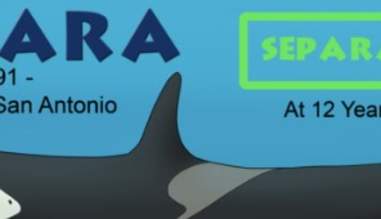 That graphic was particularly poignant for Ingrid Visser, the leading scientist with the Orca Research Trust and the Free Morgan Foundation, who wanted to emphasize Kohana's situation. The female orca -- owned by SeaWorld but on loan to Loro Parque, has delivered two calves for the marine facility -- Adan and Vicky. She ended up rejecting both of them, and in 2013, Vicky died at just 10 months old.
Federal estimates suggest that in some wild populations of orcas, breeding occurs once every five years. With SeaWorld placing orca gestation at 17 to 18 months, Kohana's pregnancies were incredibly close together. "Kohana's two calves were born only 661 days, 1 year, 9 months, apart," Visser said. "They got her pregnant again only two months, maybe three, after Adan was born."
Another poster, "JJ Versus Keiko," Harrison said, "was personal for me." Keiko was languishing near death in a Mexican marine park when he was rescued for rehabilitation and release. SeaWorld sees the killer whale's release as a failure, even though he spent five years in the ocean, constantly monitored by a dedicated team.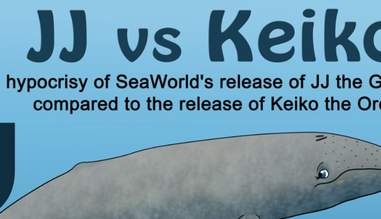 The park, however, celebrated the successful release of JJ the grey whale, after they took the ailing animal in and helped her to recover. Wolf followed both stories closely when he was young, and described JJ's release as downright irresponsible. "The lack of a tracker or follow-up plan," he said, "meant that SeaWorld could wash their hands of the issue, call JJ's release a success, and nobody would be able to prove otherwise. At least we knew what happened to Keiko," he said.
The duo's artwork has earned the admiration of Visser. "They do the background research, check the facts and create accurate work that people can understand," she said. "The public is looking for information that they can trust and this is exactly that. I've been impressed with the number of shares, 'likes' and discussions arising from their work and I'd encourage them to do more."
Harrison collaborated with Visser on a series of rake maps detailing the injuries to a young wild-caught orca, Morgan, being held at Loro Parque in Spain. In the hope that Morgan's freedom could be secured, Visser used the maps as part of her report and testimony to a Dutch court. Harrison and Wolf have every intention of pressing forward with their message.
Wolf, who attends Purdue University, wants to continue his career in environmental and biological sciences and step up activity for cetaceans on the public scene. Harrison, meanwhile, who has no formal training in the arts, has been posting his artwork at DeviantArt.com for more than a decade. Keen to pursue a background in marine biology or the arts, he is at work on other pieces.
SeaWorld and marine parks profit off keeping orcas and other marine animals in captivity -- despite evidence that captivity not only induces unnatural behaviors in whales, but also endangers trainers. Join us in pledging never to visit SeaWorld or other marine parks until they empty their orca tanks.