Tweeters Get An Answer To The Question 'Where Is Lolita?'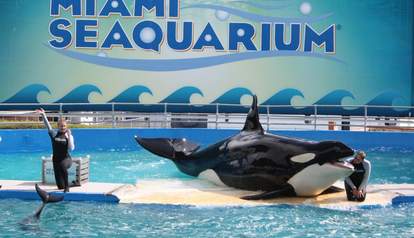 On Wednesday, December 3rd, the Facebook page of my friend Sandy McElhaney brought to my attention the following statement on the Miami Seaquarium website:
"Due to routine maintenance at our Killer Whale and Dolphin Stadium, there will be no Killer Whale and Dolphin show until further notice. Guests can still enjoy the Golden Dome Sea Lion Show, Top Deck Dolphin Show and Flipper Dolphin Show. We apologize for the inconvenience."
A review posted on Trip Advisor implied that the orca exhibit had been closed since at least November 28th:
Calls to Miami Seaquarium were met with conflicting statements about maintenance of the stadium versus the tank, and the staff there hung up on some concerned callers. When asked if Lolita could be seen, Miami Seaquarium stated she could not be seen by the public at this time. There was even a rumor that a well-known anti-captivity activist went to check on Lolita and was kicked out of the facility, and any questions posted on their Facebook page were deleted immediately. It sure seemed like the Miami Seaquarium had something to hide.
I got the idea to start a Tweetstorm from my friends at The Blackfish Brigade. Paige Nelson and Stephanie Wireman have led many Tweet storms against captivity and whaling and they gave me great tips and advice on how to go about this. Our Tweetstorm would use the hashtag #whereislolita (after all, where do you hide a 7,000 pound orca?), and we would tweet national organizations as well as local journalists in the Miami area. Our goal was simple: we wanted to find out if Lolita was okay, and if she was still in her (too small) tank or had been moved to an even smaller holding tank.
The Tweet storm started the evening of December 4 and gained steam the next day when we added tweets to local journalists and CBS4 in Miami. Hannah Sampson, a business writer for the Miami Herald, replied quickly that she was on the case:

By Friday midday, I was starting to wonder if the tweet storm would work, and I was getting very concerned about the status of Lolita. A lot of people were tweeting, but we weren't getting any answers. What if Lolita was seriously ill, or even worse? In the end, it was CBS4 in Miami that saved the day, by sending a helicopter over to get a visual on Lolita: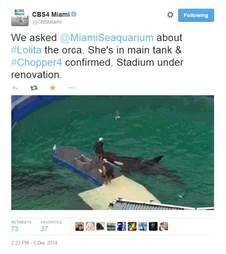 I felt compelled to write this after two articles (here and here) were published on this situation without mentioning the social media campaign #whereislolita. Let's face it, it was a group of concerned people from around the world (including the US, UK, EU, New Zealand, and South Africa) that brought attention to this on Twitter that prompted CBS4 in Miami to send a helicopter over to investigate.
The days of secrecy for companies like the Miami Seaquarium and SeaWorld are coming to an end thanks to social media. For journalists to write about the situation without giving credit to the people that made it happen is just beyond my comprehension. They are really missing the point: The people have a voice, and we will be heard. We will not be ignored. Let me tell you, Twitter is the place for animal activism right now, and that's not going away. We are not going away.
The anti-captivity revolution is here, and it's on Twitter. Come join us!