Gorgeous Dog Has Been Waiting In A Cage For Way Too Much Of His Life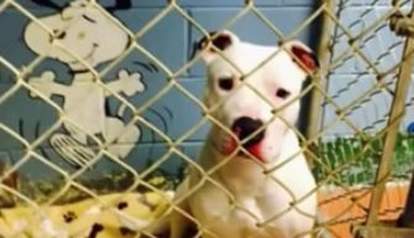 <p><a href="https://www.facebook.com/RTHRS/timeline" target="_blank">Road to Home Rescue Support</a><a href="https://www.facebook.com/RTHRS/timeline"></a></p>
Sometimes, the most beautiful dogs are just born under a bad sign.
Like Tully, a 77-pound pit bull who is all about the love.
Just not at all about the kennel.
But such was Tully's luck to be picked up as a stray on the streets of Long Island and brought to the local shelter.
His howling disdain for being in any space with a gate was such a severe issue, it may have even been the end of him.
"He just did not do well," Elyse Giurco, founder of Road to Home Rescue Support, tells The Dodo. "Some dogs can handle being kenneled. Some cannot. He did not do well."
Still, Tully would spend too many months in the kennel he loathed so much - until Giurco heard about the dog who refused to be locked up.
"I went and met him and fell in love with him," she tells The Dodo. "So we pulled him."
And, for a while, it seemed the luckless dog may have finally found a little grace.
Over the next year and a half, Tully would board at homes for short stretches. He was sent to trainers as well, but in each case something went wrong - a trainer fell ill and couldn't keep him, potential adopters were no-shows.
The specter of the dreaded kennel reared its head again and again.
Tully boarded at a veterinary clinic for a while too. But the vet had to keep him in a kennel.
Giurco's friend took pity on the dog and brought him to her house for a few hours each day.
"Tully was awesome in the house," Giurco says. "He would just hang all day with her. He would just lay in the dog bed or go outside in the yard."
But when it came time to go back to the kennel, Tully's resistance grew increasingly pronounced.
After a few weeks, it became impossible to bring Tully back to the kennel.
"He just broke down," Giurco says. "He started freaking out."
The friend decided to foster him, at least for a while. But she had another foster. She couldn't keep Tully indefinitely.
"The problem with Tully, he's been bounced so much," Giurco says. "I feel that there's been this black cloud following him and he just can't get a break."
But in the two weeks that Tully did have some semblance of home, he embraced it, showing every reason why this dog's life shouldn't be defined as a series of bad bounces.
"If you give him a treat, he will take a treat like a little baby from your hand," she said. "He has no food aggression. He hasn't shown any aggression to humans as well."
This dog who has been bounced around so much needs to catch just one bounce. For one of the few times in his life, a lucky one.
"We have gotten so many people that are interested, but every single person ... they have another dog, or they're in Indiana or they're in California," Giurco says.
"Tully needs to be in the northeast."
She wants him near because she doesn't want to take any chance that he will lose his way again.
In addition, Tully must be the only pet in the house.
Think you can help?
Get in touch with through the group's Facebook page or email inforoadtohome@gmail.com.
You can also fill in an application to adopt Tully here.
You can also follow Tully's journey to a forever home here.