Raccoons Born In Trap Were Found By Just The Right Person
One night, a raccoon ambled into a box in Lexington, Kentucky.
A door automatically shut behind her. And she spent the night there.
But in the morning, when a technician opened the trap, she wasn't alone - a whole family emerged.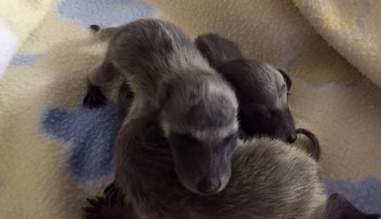 Kentucky Wildlife Center
It wasn't the ideal place for a raccoon to give birth. But she was already in the wrong place at the wrong time - an animal trapping company called Critter Control had been called to humanely catch the raccoon before she became a pest. Besides, the animal control company, particularly the technician who found her, had a reputation for loving animals.
Ultimately, that little box led the new family to an even better place.
The raccoons were brought to the Kentucky Wildlife Center last week, where they were microchipped, vaccinated and, well, swooned over.
"We were able to get mom and babies and give them a good health check and get them set up," Jennifer Crabill, director at the wildlife center, tells The Dodo.
They are among around 1,200 animals who cross the center's threshold every year.
"It's the time of year when we get no sleep and we're lucky if we get a shower," Crabill says.
This fresh family of raccoons made its way into a special ward known as the "home for wayward moms."
That's where they can not only be comfortable together - while being treated and monitored - but also where the center gets to learn a thing or two from them.
A mother passes on maternal antibodies to her babies - a kind of natural tonic to protect against disease. But as time goes on, those antibodies fade.
"So what we try to determine is how long the antibodies actually stay with the baby," Crabill says. "Because if you vaccinate too young, the maternal antibodies can actually interfere with the effectiveness of the vaccine."
A better understanding of how long maternal antibodies stay with a baby helps veterinarians determine the best and most effective window for administering a vaccination.
"And that applies not only to wildlife in our care," Crabill says. "What we learn about how domestic antibodies helps with our dogs and with our cats and providing the best veterinary vaccine protocols for them."
The center will spend a few months with these raccoons, helping them get strong and healthy before releasing them at a site that's been deemed safe.
"Once [the mother] becomes acclimated to the location, she'll then be able to move out on her own terms into the wild with her family," Crabill explains.
These raccoon babies, called kits, will want to stay with their mother at least until winter - which is why the raccoons who arrived as a family will also leave as a family.
If you happen to come across babies in the wild - and are certain the mother is no longer around - here's a guide on how to handle them.