Tracking Taiji: A Timeline Of Hunting Season At The Cove
<p>lowjumpingfrog / <a href="https://www.flickr.com/photos/jenorton/5643121091/in/photolist-9AEtie-8uPtnw-2VmSBb-9kEgW6-bQt184-oA4qep-7AkBzT-5S1iMM-bByiWA-5RzsK9-4ujvBK-7993ub-bW5n4-BkPn1-6rPWsD-GwfLQ-7Tpjaq-2pDoBM-5jEoUM-4GvEmn-cYbehA-ghj1N6-kHQby-9LrHyW-8dcJQM-oFwPR-7A9Bu9-aacvTH-da4UN-4rsgjt-e2FCFs-7A9Bbb-8rDZVv-7yZp5w-GwfMA-wHvYy-9RfpsL-4KoAhc-bW5n1-goBn1F-92jhgx-fCSuPY-9qpdb2-atbcpK-9tCXz1-bW2P5-545LiN-gpy9BJ-dgfQhV-ejaxXm">Flick</a>r</p>
Although the dolphin drive hunt in Taiji, Japan, originally dates back to the '30s, the practice only began on a large scale in the '60s, thanks to high-powered motor boats that allowed fishermen to drive the animals into the town's cove. And it's only in recent years that media attention on the slaughter has exploded.
While some of the meat is sold for consumption, the real financial motivation for the dolphin hunters in Taiji comes from the industry for dolphins bound for captivity in marine parks. Just one dolphin can fetch over $40,000 from dolphin traffickers on the international market.
The Dodo will be covering the dolphin and whale slaughter throughout, and this will serve as a timeline for the events as they happen. If past seasons are any measure, the season could last until April 2015.
September 18, 2014: 10 to 12 Risso's dolphins were herded into the cove and slaughtered for their meat.
September 17, 2014: Eight Risso's dolphins were driven into the cove. Under the cover of tarps, four of these, the adults, were brought to the butcher's. The remaining four, calves, were released at sea.
September 16, 2014: In the first slaughter of the year, eight to nine Risso's dolphins, including one calf, were herded into the cove and killed.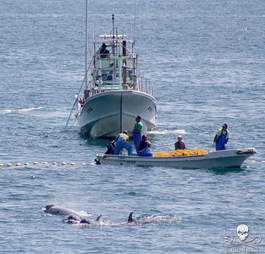 September 1, 2014: The hunt officially begins, with fishermen heading out to sea in search of dolphin pods.
[rebelmouse-campaign #TaijiNeverAgain title="Speak up: Tell Prime Minister Abe to ban dolphin hunts immediately." theme="sidebar" total="supporters have added their voice." cta="Share Now" pastCta="Shared" sendButton="Share" why="Thanks for sharing! You can post more on The Dodo about why this issue matters to you." addPost="Post Now!" shareText="Tracking Taiji: A Timeline Of Hunting Season At The Cove {{link}} #TaijiNeverAgain"]