If You Love Animals, Don't Chase Them For A Photo. Here's Why.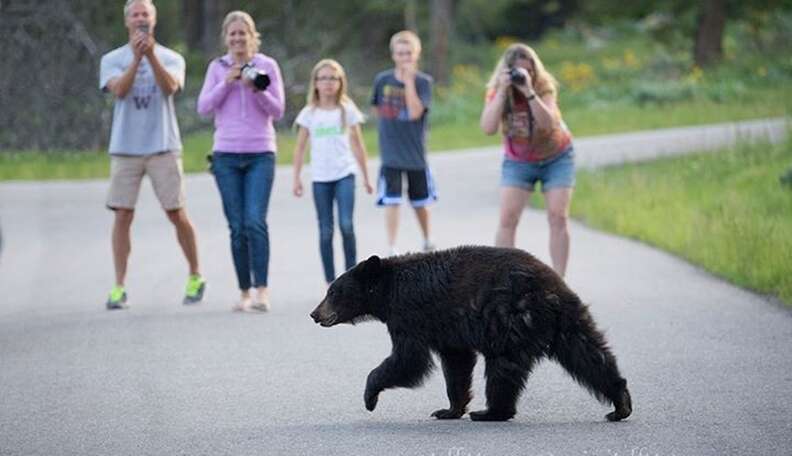 It's just days away from the official beginning of summer, which means families around the country - indeed, the world - are readying for trips to some of the nation's most popular national parks. Perhaps the most central objective: to take some fabulous photographs of the country's most iconic animals.
But tourists seem to have a real problem when it comes to photographing wildlife.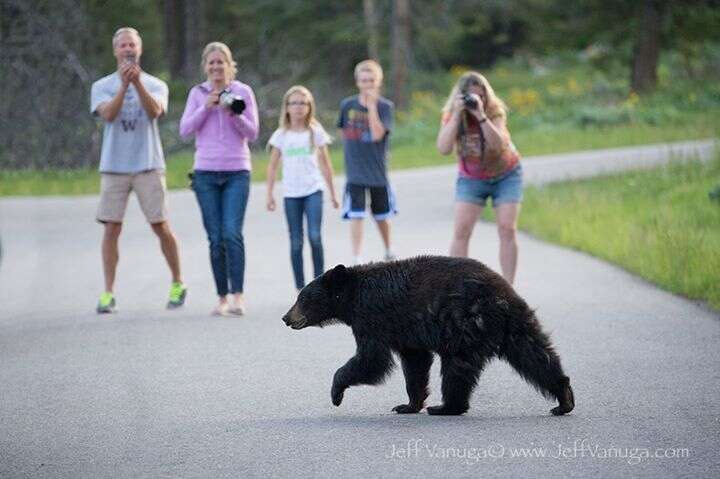 Longtime nature photographer Jeff Vanuga was recently in Grand Teton National Park when he witnessed some 20 tourists chasing a bear. "The bear was working its way along Jackson Lake, and the people just charged it," he told The Dodo.
Within minutes, says Vanuga, the tourists "engulfed" the bear. Eventually, the animal started running: The bear rushed through a parking lot, darted across a highway and then dashed into the woods.
What did the people do? "They chased the bear all the way," says Vanuga.
Vanuga, who is based in Dubois, Wyoming, and has had photographs published in National Geographic, Sierra Club, Smithsonian and numerous other illustrious outlets, says he thinks the brutish actions of tourists are part of an upward, if not disastrous, trend: "You will see this time and time again in national parks these days ... People just walk right up to animals with their iPads and iPhones, sometimes just two or three feet away. I've seen people get as close as six inches to animals. And it seems to be getting worse."
Vanuga says this dubious trend can be partly attributed to a few different factors: the number of people who are allowed in a park (nearly 3 million people visited Grand Teton National Park last year), the popularity of mobile devices and the selfie craze. "The selfies! It is mind-boggling what people will do," he says.
In nearby Yellowstone National Park, two bison recently attacked an Australian and a Taiwanese tourist. The park's spokesperson Amy Bartlett told The Guardian newspaper that in the case of the Australian man, "other people had crowded around the bison and it was 'already getting agitated' before he got out his camera."
The man reportedly - with electric notepad in hand - moved within 5 feet of the animal immediately before he was attacked.
Pat Owen is a wildlife biologist at Denali National Park in Alaska who focuses on wildlife management. At Denali, Owen told The Dodo, tourists are asked to abide by certain rules: a 300-yard viewing distance for both black and grizzly bears, and 25 yards for other wildlife species including wolves, sheep and caribou.
How often do tourists break these distance rules?
"Often," says Owen. "Very often."
In fact, she adds: "We are currently in the middle of a management nightmare."
A cow moose, Owen says, recently gave birth to twin calves. For reasons that might be based on food sources, or protection from predators, the cow and her calves are living inside the most popular campground in Denali, at the park's entrance.
The moose is extremely agitated, says Owen. "We've had two fairly serious injuries and I've lost track of the number of charges."
However, Owen says, despite the plethora of signs around the campground telling people to not disturb the moose, the three wildlife technicians rotating in and out of the campground - which is host to 150 sites - other support staff spreading the word about the moose, and a press release calling attention to the situation, tourists just do not seem to listen.
"I'm at my wits end," says Owen.
"It seems to me that people fall on either one side of the line or the other," she says, when describing the kinds of people who follow the park's rules - or do not. "They either get it, or they don't. Though even our most conscientious tourists are problematic," she adds.
One park worker was recently explaining to a tourist how the moose is charging people unprovoked, according to Owen. But the tourist insisted she had to get a photograph of the moose for her grandchild.
"The worker said, 'Okay, I'll take a photo of you so you can give it to your grandchild. Getting knocked down by the moose,'" says Owen. "I honestly don't know what it is."
Meanwhile, wildlife suffers a considerable amount of stress from these interactions. Furthermore, human encroachment might force animals away from areas where they are feeding, resting or hiding from predators.
Vanuga says he has seen animals endure far too much and believes the situation will only amplify: "I'm amazed at what I see these days. It's just stupidity ... people have total disregard for the respect of the animal, the space the animal needs and for other people observing wildlife."
"I would not be surprised," he adds, "if we didn't have another mauling or two this coming season."