On the evening of May 6th 2014, I saw a friend's Facebook post documenting a recreational boater petting a sea lion pup on his boat off Southern California's Pacific Coast. The footage went viral, and it certainly caught my attention.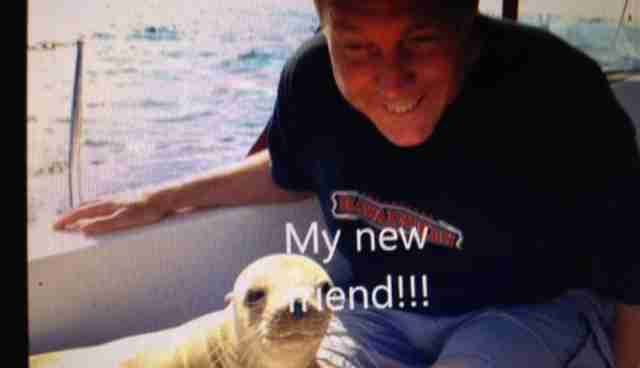 These "cute" encounters with wildlife are increasing in frequency every day. But sadly they promote the habituation of animals to people and after this sea lion pup jumped on board he was all the more likely comfortable doing it again. This is the concern of the National Marine Fisheries Service (NMFS). Surprisingly, this guy -- the boat operator -- was dumb or naive enough to video tape himself petting the sea lion pup on his boat, which is a federal offense under the Marine Mammal Protection Act. The law is enforced by the NMFS. (http://www.nmfs.noaa.gov/stories/2012/10/10_02_12mmpa_enforcment_story.html)
In a 2012 report on the death of a famous wild bottlenose dolphin, the subject of years of behavioral study, Brian Clark Howard, Editor of National Geographic News Watch said, "It is illegal to feed or approach wild [marine mammals] under the U.S. Marine Mammal Protection Act, and violators can get up to $100,000 in fines and up to one year in jail per violation. But enforcement is a challenge, given the huge size of coastal areas and the limited budgets of government agencies. The National Oceanic and Atmospheric Administration has prosecuted three dolphin harassment cases in Florida in recent months, but studies suggest many more go unreported."

In this case, the perpetrator had himself videotaped touching the sea lion and shared the footage with a news outlet, which in turn was seen widely on social media venues. I couldn't help but take notice. Marine mammal legislation and regulations are particularly strict, but the public is making it easy to prosecute people under the Marine Mammal Protection Act and other wildlife laws. The public is uploading the evidence of wildlife crimes, and implicating themselves, friends and family right on to Facebook!
So many people have inadvertently committed a crime with the intentions of just getting close to nature. But don't be dumb enough to post it on Facebook. You might as well video tape yourself robbing a bank. It would behoove people to know the law, especially when we are inundated with social media and when technology makes it is all too easy to implicate one's self in a crime, and particularly a wildlife crime. Here is the link:
http://blog.petflow.com/a-couple-spotted-something...
I would also remind people of the consequences of inadvertently habituating wildlife to people. If this was a bear cub that walked into your kitchen and you fed it, you would not only be breaking the law, but you very well could be determining the fate of the bear cub. In many cases a bear that is habituated to people intentionally or not, is eventually dispatched (euthanized) because it often will present a safety hazard to the public. Marine mammals are not opportunistic like bears, nor do they have to share space with us, but a habituated adult sea lion can present a hazard to people nonetheless. It is wise to keep a safe distance from free-ranging aquatic or terrestrial animals and certainly do not feed them.