Shelter Cat Has Been Adopted And Returned Twice — Just Because She's Shy
Let's get Sadie a real home.
A shelter cat named Sadie knows all too well what it's like to be overlooked.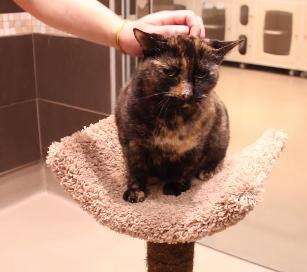 Maybe it's because she isn't as outgoing as the others - or because she's a little older than the rest. And some studies say that people are less likely to adopt tortoiseshell cats because there's a perception that these kinds of cats have too much attitude. (The writer of this article, who's had a tortoiseshell cat for five years now, can attest that that's absolutely not true.)
Whatever the reason, at 4 years old, Sadie the tortoiseshell cat has already been adopted out twice. But she was returned both times - probably because she was too shy.
"She prefers things on her own terms," Christina Hill, director of marketing and communications for the Atlanta Humane Society (AHS), told The Dodo. "[Sadie] has more of an independent personality, which isn't too uncommon for a cat, but she will need someone who is willing to give her the space she wants when she asks for it."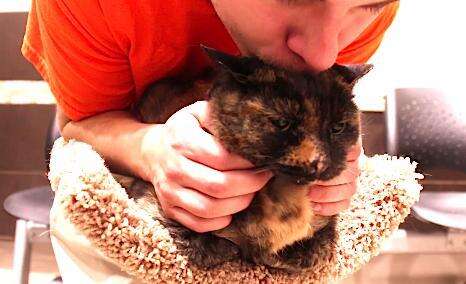 Sadie first came into the care of AHS in April 2015, but she'd been looking for a home for months before that. "She's very likely been looking for a forever home for at least 2 years," Hill said.
It was during 2015 that Sadie was adopted and returned twice. Since then, Sadie hasn't had anyone interested in adopting her for nearly 14 months.
One of the reasons it's been hard to find her a home is because Sadie prefers people to other animals. At the shelter, she's won the hearts of so many volunteers who have come to see her shyness as a part of what makes her so special.
"She would really like to be the only pet in the house which makes it a little bit more difficult to find her a home," Hill said.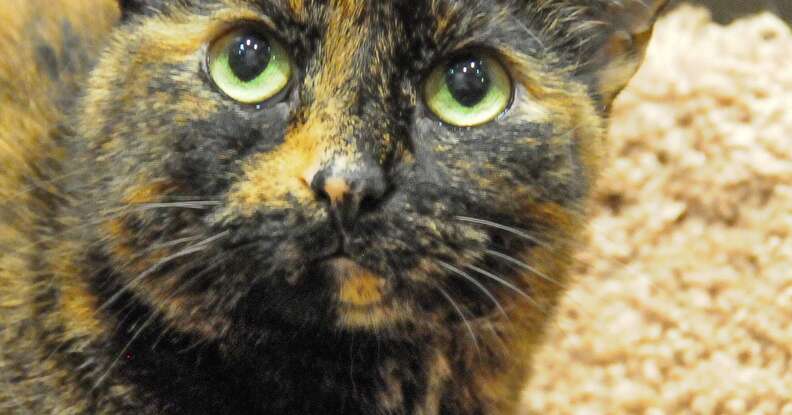 Shelter workers have discovered that Sadie loves being brushed, so they groom her every day. But when they go home for the night, Sadie is still just a shelter cat without a real home.
"Our team loves her," Hill said. "She's patiently waiting for someone to be patient with her and provide her a loving home."
Sadie is at the Alpharetta, Georgia, branch of the AHS. To set up a time to meet Sadie, call 404.875.5331 or email contact@atlantahumane.org.