Someone Thought It Was Funny To Paint This Tortoise's Shell Red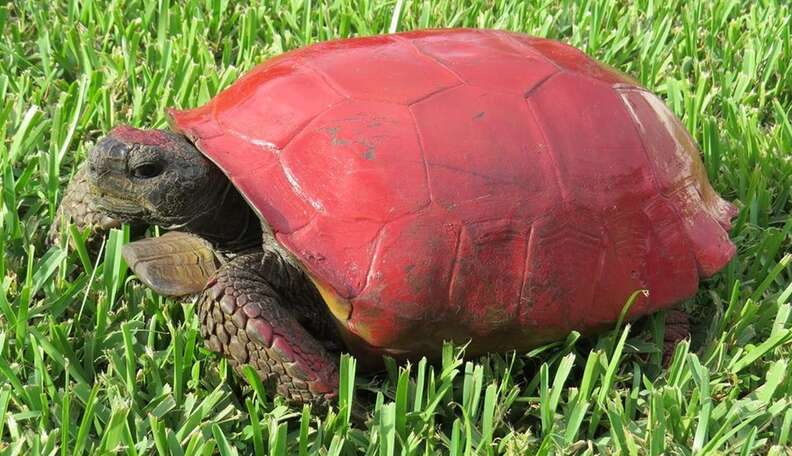 <p><a href="https://www.facebook.com/ConservancySWF/posts/1394534173906716" target="_blank">Facebook/Conservancy of Southwest Florida</a></p>
A small gopher tortoise recently fell victim to a baffling case of animal cruelty.
She was found with her shell covered in red paint, which was also staining her head and legs. The only part of her free of the paint was her eyes.
"This case is disturbing because it is particularly difficult to witness blatant animal abuse," Joanna Fitzgerald, director of the Conservancy of Southwest Florida's von Arx Wildlife Hospital, wrote in a recent blog post.
While paint may seem harmless, it can block tortoises and turtles from getting much-needed UV rays from the sun and makes them a glaring target for predators in the wild. The fumes from paint can also affect their respiratory systems, and chemicals can enter their bloodstreams through their shells.
It's still unclear who did this, or why.
Luckily for the tortoise, someone saw her plight and reported it. A Florida Fish and Wildlife Conservation Commission (FWC) biologist responded to the call and the tortoise was taken in by the wildlife hospital for treatment. Sadly, Fitzgerald noted that this wasn't the first time the hospital had seen a turtle or tortoise covered in paint.
The rescue operation - which included getting the tortoise clean - took four days. According to the blog post, the real challenge came from getting the tortoise to sit still long enough to allow the nontoxic soy-based paint cleaner to work on her; it had to remain on her shell for 20 minutes before being wiped off.
"She was active and could only take limited amounts of handling before becoming stressed and agitated," Fitzgerald wrote. As a result, the tortoise had to be sedated when it came time to remove the paint from her body. Once she was was back to her natural color, the tortoise was deemed free to go.
She was returned to a nice grassy patch of land with a "healthy gopher tortoise population," Fitzgerald wrote.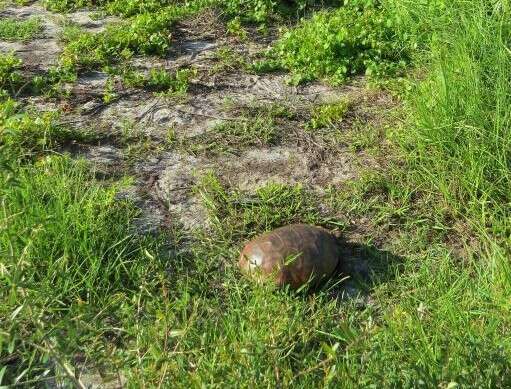 "If you see or hear of a situation involving animal abuse - speak up and contact law enforcement," Fitzgerald said. "People may think of this as a prank or a silly act of mischief, but it isn't; a living creature should never be subjected to this type of abuse."
Watch this video about a bird who was found painted orange ... with curry: