Rescued Tortoise Finds Purpose As Nursing Home's Resident Pet
Don't let the hard outer shell fool you - this sweet tortoise is just a big softy at heart.
For the last two years or so, Shelly has been living alongside residents at the Chautauqua Rehabilitation & Nursing Center in DeFuniak Springs, Florida, where he serves as the facility's only full-time therapy animal. Prior to his arrival there, he had been found wandering along a roadside, likely after being abandoned by his former owner.
But the discarded tortoise, thought to be about 20 years old, soon found purpose bringing joy and comfort to people who love him.
"He came to us as a rescue," therapist Brandy Meredith told The Dodo. "He's just been a great addition. A lot of pets we have here, dogs and cats, come and go - Shelly is always here. Anybody who ever needs a little downtime can go have some interaction with him. He's great."
Brandy Meredith
Shelly spends his days happily roving the halls or the center's spacious courtyard where the residents maintain a vegetable garden full of his favorite food. He's always happy to receive visits from his friendly human counterparts, many of whom have physical difficulties that make his leisurely way of life a better fit than more rambunctious animals.
"He's calm and he's slow, so it gives residents more time to interact," said Meredith. "They can go out and touch him, pet him - he loves to have his neck scratched. The slower pace of the tortoise is more conducive to being therapeutic in this setting."
Older folks aren't the only ones benefitting from having a friend like Shelly on duty. His presence there has helped make the whole facility a more lively, welcoming place for everyone who visits.
"One of my favorite things is how he helps youngsters who come in to see their grandparents," Meredith said. "Sometimes, it can be intimidating here because of the wheelchairs and the nature of long-term care can be overwhelming when you first walk through the doors. Shelly takes the edge off. Kids can bring snacks for him, and have their grandparents go out to feed him. That's a nice thing about having him here."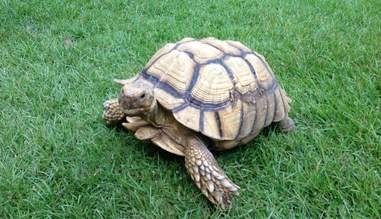 Brandy Meredith
As his lifespan could easily stretch over 100 years, Shelly's good work at the nursing home has probably only just begun - but unlike with his former conditions, he'll never have to worry about getting the boot. In fact, Meredith says that she hopes the kindly tortoise will still be bringing smiles to people's faces there by the end of this century.
"He's welcome to stay here for another 80 years. As long as he's happy, the relationship can continue to exist," she said. "I would recommend other facilities look into rescuing tortoises as therapy pets. There are so many of them out there that need homes, and this kind of setting really is perfect."