He Has No Idea How Much Better His Life Is About To Get
Nearly two weeks ago, Second Chance Rescue NYC wrote a harrowing post on Facebook asking for help to save a 2-year-old pit bull's life. Tommy was scheduled to be put down on January 13. He was living on borrowed time. His body was thin. You could see his ribs. His eyes spoke of abuse and past trauma. He was alone.
When Tommy was first found, he had scars on his face, chest and paws, in addition to being emaciated. He also had a large abscess on the side of his neck that extended to part of his face.
Tommy had a look of complete defeat on his face that spoke volumes to Jennifer Brooks, the president of Second Chance. When she saw his picture, passed along by a volunteer, she knew something had to be done for this dog. "I knew this was a dog who hadn't seen a good day in his life," Brooks told The Dodo.
Kerry Anechiarico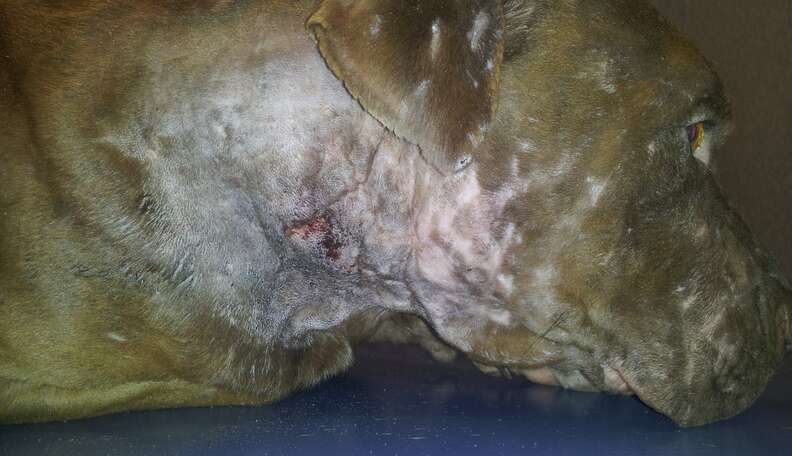 "To know that Tommy would die ... be put to sleep after such horrible treatment and lack of love literally ripped out my heart. We want to give Tommy a chance to know what love is. We want him to feel safe and secure, and know that he will never be hurt again," Brooks said.
There wasn't much known about Tommy's past or what conditions led him to become this way. "What we found out was that he was a stray picked up that looked like he was in some kind of fight," Patti Dawson, executive director and board member of Dallas DogRRR, told The Dodo. "Our vet reported that he was definitely ... a bait dog for dog fighting." Bait dogs are cruelly used as practice for fight dogs in training - they typically get tied to a tree or pole with their mouths taped shut or teeth filed down so they aren't able to fight back when attacked.
He desperately needed a miracle - and, luckily, he got one.
In order for Tommy to be taken in by Second Chance in New York, someone had to temporarily foster him from his location in Texas, until he could be transferred over. So, Dallas DogRRR stepped up to the plate.
Kerry Anechiarico
"New York had talked to us and reached out and said they really wanted Tommy," Dawson said.
"[Tommy] was rescued from [a local] shelter and scheduled to go to New York City within a few days, but based on a visit to the vet and his overall fearful temperament, we were concerned for his health during the trip," Kerry Anechiarico, a volunteer foster at Dallas DogRRR, told The Dodo.
Kerry Anechiarico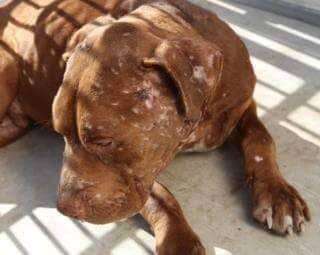 "I volunteered to foster Tommy for a couple of days prior to the transport, and was happy to give him a place to stay to heal and gain some comfort living free," he said. Second Chance is currently paying for all of Tommy's expenses in Texas.
While Tommy's physical wounds are bound to heal, he still needs to make it through his emotional and psychological ones.
"[Anechiarico] is working on training, socializing and getting him to trust, because he is uncertain of people," Dawson said. "He's not aggressive at all, he's actually super submissive. He's getting to where now he'll jump on the couch, but you can't touch him."
"He sits curled up in this tight little ball," she added.

Kerry Anechiarico
Anechiarico is Tommy's temporary foster until he is deemed healthy enough to make the trip to New York. Dawson said it's anticipated Tommy will be transported to New York within the next two weeks.
Anechiarico has now been caring for Tommy for a little over a week. "It will be a slow progress that will take many weeks ... probably months to see significant improvement," he said.
"But seeing him look into my eyes, or to look to me for guidance are small signs of progress," he said. "At this point, we'll take those, as he was literally frozen when we first got him."
The current sentencing guidelines for convicted dog fighters are very low and don't come close to matching the seriousness of this barbaric activity. Ask the U.S. Sentencing Commission to get tough on animal fighters and increase jail sentences here.