Tom Brady Shows Off His New Rescue Dog In The Most Creative Way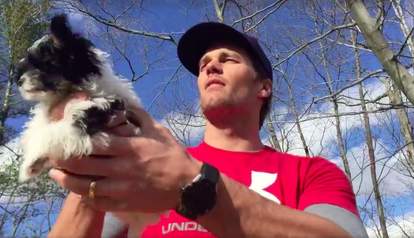 <p><a href="https://www.facebook.com/TomBrady/videos/vb.214003275307497/1076615859046230/?type=2&theater" target="_blank">Facebook/Tom Brady</a> </p>
New England Patriots quarterback Tom Brady and his wife, supermodel Gisele Bündchen, both had very different ways of introducing the newest member of their family to the world.
The black and white pooch, named Fluffy, was adopted from the Wags and Walks rescue group based in Los Angeles, Bündchen wrote in a post marking the pup's Instagram debut.
"The kids are over the moon with our new family member," Bündchen wrote. "Fluffy is pure joy!"
While the 35-year-old model went the sweet route, her husband decided to get a little more creative. In a video shared on his Facebook page, the 38-year-old football star invoked a scene from a certain classic Disney movie - music included.
The fact that the Brady-Bündchens have adopted a new rescue dog is no surprise.
and a beagle ...
... named Scooby.
If you look closely, you'll see how the two dogs make a cameo in Brady's "Lion King"-inspired video for Fluffy. Although they don't seem to quite understand the magical moment happening between their new sibling and dad.
Check out Brady's "Circle of Life" reenactment below.